We are doing a series of blog posts tied insights from some of the AIIM Board and speakers at AIIM16. We're doing this under the series name, Stop Waiting and Start Doing: Rules to Tackle Digital Disruption. Previously posted rules are at the end of this post -- Here are rules 21-30 -- I've created a monster! -- This may need to become an e-book.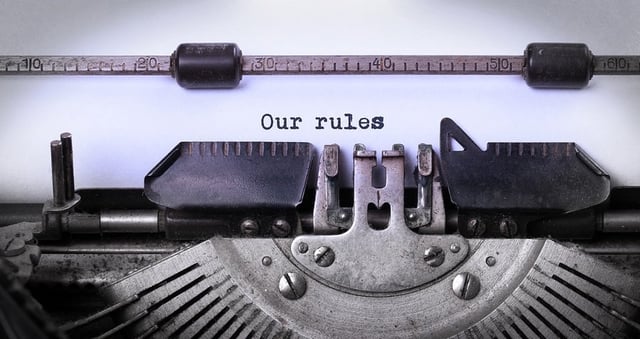 Rule #21 -- Simple is hard.
Andrea Chiappe, Director of Strategy and Innovation, Systemware, Inc.: "Every person who interacts with your information systems has a very different perspective of what makes it good. Systems should not dictate the use of your information rather they should help you realize and harness the value of information assets. Simple design is hard, it requires forethought and deep analysis of behaviours and trends of ALL the actors. Simplicity in ECM is bigger than intelligently curating information in context of end users on any device and meeting the macro requirement of your business, simplicity should be evaluated for all the personas with a strategic role in information: compliance and security officers, architects, admins, department leaders, c-suite executives, customers, partners, systems and things." @ChiappeAndrea
Get my new free e-book -- HERE.

Rule #22 -- It's a journey, not a destination
.
Chris McLaughlin, EMC: "True digital transformation is about instilling a digital mindset in your organization. A truly digital organization embraces change and recognizes that new technologies, new products and services, and new ways of servicing its customers are simply opportunities: opportunities to differentiate, to take market share and to outperform competitors. They also accept that digitalization is a constantly moving target and that new technologies and new market entrants with new business models will continually create disruption and competitive pressure. So, instead of focusing on digital transformation as a one-time event, invest in building a culture and a mindset that embraces change and constantly seeks out new ways of doing business." -- @cc_mclaughlin
Rule #23 -- Embrace chaos, but explain the risks.
Neale Stidolph, Head of Strategic Development, Lockheed-Martin: "Chaos cannot be controlled, information wants to be free and people don't do what they are told. These are universal truths! What we can do is explain to everyone that information has issues of sensitivity, risk, regulation and many other factors. We must all be thoughtful in our treatment of information. It is inevitable that people will use memory sticks, remote file sync & share, personal devices and many things that might be frowned upon by corporations. If these are used responsibly they can help. We cannot police this whole ecosystem but we can make people cautious and minful about it." -- @nealestidolph
Per Andrea Chiappe: "Optimizing information systems can have tremendous pay-offs or tumultuous results; not surprisingly, providing transparency to both the benefits and the risks of the changes can mitigate unforseen pitfalls. How big are the potential savings and how quickly can you capture those savings? What are all of the upfront investment requirements? How does the change align strategically with your business objectives? Do you have organizational buy-in? How big will the impact be on users and on existing systems, do you have the bandwidth to manage all of these impacts? In the end, analyzing risk and benefit will allow you to come up with the best phased approach for optimizing."
Rule #24 -- Don't pave the cowpath.
Steve Stone, CEO, Infoflows Corporation: "Automating an inefficient process is like paving a cow path. The work is going to wind its way here and there before it is completed. Paving it might make the trip faster, but it doesn't make it shorter. Fewer steps generally means a better, more reliable process. Before investing in technology, see what you can do about straightening out that cow path." -- @steveastone
A set of issues echoed by Andrea Chiappe: "When modernizing your legacy processes, it is important that you avoid the trap of simply recreating the existing processes one to one as a digitall equivalent. You will find steps that were necessary when the process was conceived are no longer relevant in a digital workplace. Start by mapping the legacy process to a digital journey and identify where you can apply available strategies and technologies to uncover efficiencies."
Rule #25 -- Scan it and ditch it
.
Chelsea Dunshee, ISV Business Development Manager, Panasonic: "US businesses are becoming increasingly electronic but all too often the world still runs on paper. Operating at maximum efficiency requires reliable, fast processes for bringing paper documents into your digital workflows. " -- @otownchels
Rule #26 -- Benefit from know-hows in other industries
.
Yulia Kaurova, Marketing Manager, 4Point: "Don't be limited by knowledge, trends and transformations most related to your industry. Do you remember that hydrojet invention was inspired by propulsion system related to marine creatures like octopus or squid? To see the big picture is always beneficial. Sometimes facts or challenges related to other industries can provide you brilliant ideas of how to explore them in your own work. Sometimes 'thinking out of the box' means just stepping out of your industry and looking around." -- @YuliaKaurova
Neale Stidolph echoes the need for an industry focus: "Information is not often generic, it has particular relevance and meaning to different sectors, be they government, financial, industrial, etc. Seek out others who work with similar classes of information, find out whether there are standards or regulations in your sector and if not start to collaborate with others to build a shared classification for your sector."
Rule #27 -- Start something. Anything
.
Chris Walker, Principal / Consultant & IM Evangelist - PHIGs IMC Inc.: "Sitting around navel gazing is going to result in you being crushed. Pick something small, easy, and safe, but with tangible benefits and get going." -- @chris_p_walker
Ben Bilges, Director Partner Business Development (US) I.R.I.S. AG, notes, "Chris, I totally agree: Start something – but not somehow. The magic word in terms of this is PROJECT. Choose a capable partner and work together on a project roadmap that fits your expectations. This enables you on the one hand to get a realistic overview about your actual state but also defines a final aim. Make sure that your preferred system is scalable and able to grow with your growing requirements."
Rule #28 -- Demand the features you need!
Duff Johnson, President, PDF Association: "Most software vendors don't get the feedback they need to help them make more useful software. Customers suffer in silence, pay consultants to fill the gap, or simply buy yet another product. Instead, invest some time in describing, in detail, and in a technically-accurate manner, what it is that you need. You might be amazed at the response." -- @DuffJohnson
Ben Bilges adds, "Indeed, a detailed, technical and critical feedback is essential to improve your software and align it to your customers' requests. If you don't get it, it's up to you to actively ask for it. Both sides (customers and vendors) can only profit from these information. Duff, you mentioned almost casually another very important point of "paying consultants to fill knowledge gaps." Customers often pay too much attention to the sheer software license costs. Always keep in mind that the approach of an transparent vendor-customer-transfer of software knowledge guarantees independence, flexibility and helps to keep the project cost reasonable for the customer. That eventually raises ROI."
Rule #29 -- Figure out how Google Apps fits into all of this
.
Lea Beeken, Supervisor at Edmonton Public Schools: "Use ECM to "rescue" the content that is of value to the organization, while using Google apps to collaborate and create content easily (like you are doing with this form)" -- @BeekenLea. "Agreed, Lea. It is important to think of electronic content in terms of active and inactive, just as we have done for paper records," notes Warren Bean, Senior Sales Engineer, Zasio Enterprises. @Zasio_Ent
Rule #30 --
Having a competent project manager is essential
.
Don Field, CEO Ephesoft: "Both the user and the solution provider need to have highly capable PMs on the project who communicate well with each other. I've seen projects that should have been easy get bogged down due to ineffective PMs or poor communication between them." @Ephesoft -- Chris Walker: "Totally agree. Also need effective change management, which is so often overlooked. I've been on too many projects that have lacked both."
-----
Previously published "Rules":
Are you registered for #AIIM16? Who is this guy? Catch him at AIIM.