We are doing a series of blog posts tied insights from some of the AIIM Board and speakers at AIIM16. We're doing this under the series name, Stop Waiting and Start Doing: Rules to Tackle Digital Disruption. The previously posted 30 rules are at the end of this post. This is the last post in the series -- there are still more to come, though, in an e-book with all of the posts and some additional cool stuff. Next week!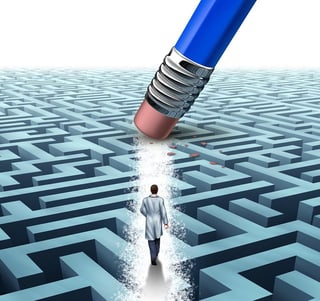 Rule #31 --
Think ecosystems not silos

.

Andrea Chiappe, Director of Strategy and Innovation, Systemware, Inc.: "Focus on building information ecosystems by requiriing seamless, interoperability among existing content repositories, wherever they reside, leveraging hybrid cloud options, where they make sense, enabling your employees, partners, customers, systems and things to collaborate on exactly the content each one needs – within defined business processes, and using defined APIs and technologies to focus on building your differentiating business algorithms." @ChiappeAndrea
Rule #32 --
Make digital transformation pay for itself.
Chris McLaughlin, EMC: "For most companies that weren't born digital, the tough reality is that - as time goes on - they have more legacy systems to sustain and, each year, more and more of their budget is consumed in simply operating existing infrastructure. In fact, for many companies, this number may be as high as 85% or more of their IT budget. Simply put, IT leaders are being asked to provide many of the tools necessary for digital transformation, but are struggling to pay for them. So, to begin, self-fund IT transformation by seeking out proven solutions to take cost out of this legacy infrastructure and, along the way, also look to unlock critical information that may be trapped in these siloed systems." -- @cc_mclaughlin
Rule #33 -- Clean your room!
Tim Osman, Marketing Manager at OPEX: " Any good remodel takes an accounting of the entire space and contents that currently exist within it. There will be "furnishings' that you will want to re-use. Some items may require a simple touch up or perhaps may need to be tossed in the dumpster altogether. You may even find a gem or two, lost long ago, that may impact your remodel in a significant way. Siloed systems that you've collected over time could clash horribly with your desired new look. Some, however, can be salvaged with a tweak here & there, or perhaps be re-upholstered. You may reminisce about that outmoded workflow or process that once fit the needs of 20 years ago; but if you were honest with yourself, it really ought to GO. Envisioning the future, fresh and new, starts with a good old-fashioned cleaning." @OPEXcorporation
Neale Stidolph, Head of Strategic Development, Lockheed-Martin, focuses on the importance of dealing with "ROT": "Unstructured information tends to multiply in the dark. Ensure you have an effective way of finding and then tackling information that is Redundant, Obsolete or Trivial (ROT). You will need a policy, some rules on classification and retention, applied using a smart tool which can sift through large volumes. Being able to automate the tidy-up is highly desirable, preserving audit trails as well." -- @nealestidolph
Rule #34 --
Make it better than the system being replaced

.

Steve Stone, CEO, Infoflows Corporation: "In a high volume Lockbox environment, we were challenged to give customers a reason to move from traditional paper copies to images. We could have incented them with price, of course, but we wanted our customers to want to move. The answer seems obvious in retrospect, but we had to make the new system better than the system it replaced. In this case, that meant full color, high resolution images from end to end to replace black and white photo copies; on-line search capabilities to replace file cabinets; transmissions to replace overnight packages. In the final analysis, customers asked to be moved and paid more for the image-based service because the total value proposition was so much better. That's how you justify a multi-million dollar investment in technology!" -- @steveastone
Rule #35 -- I
t's not just about the external customer.
Per Patrick McGrath, Head of Product Marketing, EMC: "Digital transformation impacts all areas of the organization, including how work gets done. Better enabling knowledge workers represents one of the single largest opportunities for business transformation in the digital era. Knowledge workers represent 27% of employment costs and many estimate that more than 50% of their time is spent inefficiently. And, we are now seeing new trends in global workforce utilization and the emergence of the 'human cloud.' Within the next 5 years, we will see significant move toward the use of temporary and independent workers. Disruptors who embrace this approach will win in the digital economy." -- @patrickiest
Rule #36 -- Make ECM easy...but secure
.
Greg Milliken, M-Files: "As the popularity of file sharing apps has grown, companies must be able to balance security and data protection against employee needs for a simple solution for sharing documents and collaborating with others outside of their organization."
Rule #37 -- Get out of the way
.
Chris Walker, Principal / Consultant & IM Evangelist - PHIGs IMC Inc.: "You want your people to innovate, transform, and disrupt, but you're still relying on out-moded and out-dated managierial structures. Stop. Create an atmosphere that encourages people to go out on a limb and try something new. Give them the freedom to try, but define some reasonable boundaries for them." -- @chris_p_walker
Rule #38 --
This is business, not fashion.
Duff Johnson, President, PDF Association: "Many new technologies come and go. Pay attention to those which have proven staying-power and a broad eco-system of developers." -- @DuffJohnson
Rule #39 -- Think in learning cycles
.
Danielle Galmore, Steelcase: "You have a hypothesis or desired state, so run a learning cycle. It similar to failing fast mentality, but in a positive way that frees you from the word failure. It also allows you to run iterations quickly as you learn, adjust and learn more." @DaniGlm
Rule #40 --
Managing your information is not a project. It is an ongoing discipline.
And one more from my friend Andrea Chiappe to round out this 10: "Do not look at systems that manage information assets as a set it and forget it project. Ensure you have the measurements and teams in place to reevaluate the systems on a planned timeline. In terms of your information landscape, ask yourself - Is it current? Is it strategic? Is it secure? Is it performing?" @ChiappeAndrea
-----
Previously published "Rules":
Are you registered for #AIIM16? Who is this guy? Catch him at AIIM.