Over the past decade, there has been a "perfect storm" of change driven by consumerization, cloud, mobile, and the Internet of Things. It has changed how enterprise information and IT are viewed and changed the kinds of skills that are needed to adapt to these disruptions. The value-add for information technology in organizations is rapidly shifting from the technology per se to the stewardship, optimization, and application of the information assets themselves.

To meet this need, the Association for Information and Image Management (AIIM) worked with industry experts and focus groups to define the body of knowledge necessary for information professionals to be successful in the digital economy, built a certification and test based upon this body of knowledge that is available at locations around the world, and created a set of training courses and materials to help information professionals prepare for the examination.
"Information is an asset that can help organizations add value, manage risks, reduce costs or disrupt markets," says Atle Skjekkeland, Senior Vice President of AIIM. "The Certified Information Professional designation ensures that buyers or solution and service providers have the knowledge required to be successful".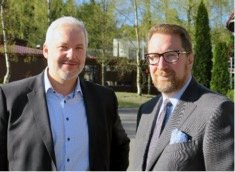 Canon Norway, a division of Canon Europe, has embraced this concept. It now represents the company in Norway with the most Certified Information Professionals on staff. "One of our objectives with this certification was to raise the competency of all of our Information Management resources to the same level", said Henrik Klemetsen, Canon's Head of Marketing and Sales Excellence. "So, our sales, presales and IT consultants pursued and achieved this certification. We trust that this achievement provides added confidence to our customers in choosing us as their partner for digitisation of their document processes. We are very satisfied with the support we received from AIIM in guiding our staff through this challenging certification, and we look forward to our continued collaboration with AIIM to keep our certifications valid and to use their extensive material available at their web-site", added Klemetsen.
For those interested in exploring the CIP, the path to CIP should be fairly simple for information practitioners who already have expertise and work experience. AIIM has a number of resources that can help practitioners at all levels prepare to become a Certified Information Professional:
About Canon
A global provider of imaging technologies and services, Canon is one of the world's most well-recognised brands. Canon Norway employs approximately 350 people across the country, and consists of 9 Canon Business Centres in addition to their headquarters in Oslo.
Founded in 1937, Canon has been a leading name in imagery for the past 80 years, and is dedicated to helping people constantly re-imagine what is possible through imaging. From cameras to commercial printers, business consultancy to healthcare technologies, Canon is growing the positive power of imaging technology and services. By delivering social and environmental benefits through its people and products, they are powerfully demonstrating their commitment to their philosophy of Kyosei: living and working together for the common good.
Further information about Canon is available at: www.canon.com