I thought I would highlight some of new content assets that have crossed my desk -- some by me, some by others. They are all free. Pick the ones you want and knock yourself out!
You can read them on the beach if you like, but I hope not. If you have already been on vacation and want to imagine you are back on the beach, this picture might help. It's from a brand new island formed off the coast of Cape Hatteras called Shelly Island.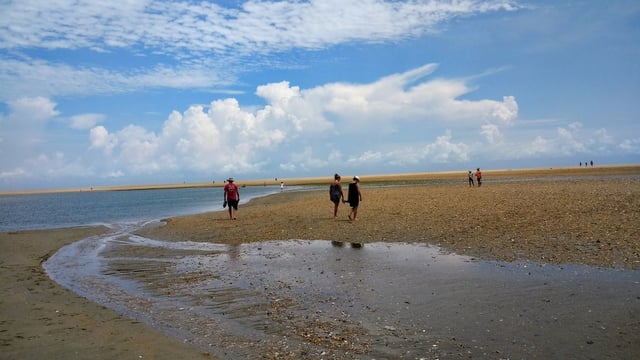 ---
e-book -- Accounts Payable - A Key Starting Point on Your Digital Transformation Journey
Download this ebook for a look at how digitizing your accounts payable processes can be a key starting point for your Digital Transformation initiatives. You'll learn why: 1) Process Transformation is so important to your overall strategy; 2) Accounts Payable is a great place to start your digital transformation effort; and 3) The C-Suite will care about Accounts Payable automation.
---
e-book -- Plan Your Move to Cloud Office Automation
The cloud content management gap is closing; we are approaching a tipping point. In a recent AIIM survey, 78% of organizations say that "if they were considering a new, replacement or consolidated ECM system," hybrid cloud capabilities would be important. 18% say these capabilities would be "vital" and an additional 32% say they would be "very important."
---
e-book -- What are your PROCESSES trying to tell you about your business?
In this e-book, we take a look at how process data can provide valuable insight into the health of the business, and we provide tips on how to compare your process analytics with those of your peers. There's a lot of value hidden away in that process data; find out how to unlock it.
---
Tip Sheet -- What information capture competencies do you need to fuel your Artificial Intelligence initiatives?
In a recent AIIM survey we investigated the question of what information capture "leadership" looks like in user organizations. What does information capture look like in leading organizations that want to position this competency not only as a source of immediate competitive advantage, but also as a long-term competency critical to the coming era of machine learning?
---
NEW Industry Watch e-book -- Governance and Compliance in 2017: A Real World View
This study explores how organizations are addressing their governance and compliance challenges by looking at: 1) The business case for a governance and compliance framework for security, privacy, and protection; 2) Automating governance and compliance components (Metadata, Security, etc.); 3) Identifying the locations of greatest risk for breaches – internally and across the firewall Collection, retention, management, and defensible destruction of information; and 4) A look ahead at the next five years to understand where businesses are focusing their efforts and funding.
---
Tip Sheet -- 5 Reasons Why You Need a Content Strategy if You Use Salesforce or Workday or Netsuite or...
I'm a big SaaS fan. When I was CEO at AIIM, I used to drive my IT staff crazy with the single process SaaS solutions (like Salesforce, Workday) I would find. But unless organizations are careful, the endgame for all of these SaaS solutions is going to be a bumper crop of new content silos.
---
e-book -- Minimize Business Risk: Top 5 Information Governance Obstacles You Must Tackle Now
As an Information Professional and business leader, there are five key areas of focus that can help you to teach employees of the importance of IG and align the organization to support your IG initiatives, policies, and practices.
---
Tip Sheet -- Understanding the "Three" Root Causes of Process Inefficiency
When it comes to getting basic information flows under control, the reality in most organizations does not match their good intentions. Find out more -- and what to do about it -- in the new Tip Sheet.
---
e-book -- Driving the Digital Revolution with Modern Capture
Download this eBook to learn how capture is the entry point to the digital office, the gateway for inbound and outbound content, as well as the starting line where digital transformation initiatives begin.
---
e-book -- 7 Ways to Apply Lean Principles to Core Business Processes
I this e-book I take a look at six very specific processes – 1) Product planning and design; 2) Procurement; 3) Production; 4) Sales and order processing; 5) Distribution and logistics; and 6) Customer service – and then look at a key process of concern to every organization that encompasses all of them, Compliance.
---
For a complete list of ALL of my Tip Sheets and ebooks and recent blog posts, click HERE.