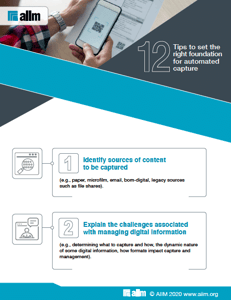 Right now, there's a torrent of information arriving at your business' front door...and back door, and side door, and lockboxes, and web sites, and the list goes on! This information is too valuable and risky to ignore, but impossible to even marginally keep pace with capturing it all manually due to 4 core reasons:
Information Volume - there's just too much to process manually
Information Variety - over half of this information chaos is unstructured content
Poor Integration - poor or missing ties into core line-of-business systems
Skills Gap - users aren't identifying and capturing their information properly
Take back control over your information with Intelligent Capture. Follow the 12 steps outlined in this checklist to provide the perfect foundation on which to build your strategy.
Download your FREE copy today!