industry watch | research | statistics
I am interested in forming a dedicated group of knowledgeable end users to provide insight on key trends in Intelligent Information Management. The intention is to systematically identify: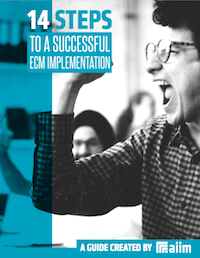 14 Steps to a Successful ECM Implementation
Making an ECM implementation successful requires planning and attention to detail. The best way to create the right solution is to identify organizational goals and priorities. Learn how to manage a successful implementation in our free guide.
CRM | Salesforce | ecm | erp
Every organization wants to increase agility and productivity by extracting maximum value from its processes and content. Organizations need to bridge the silos created by disparate lead applications to seamlessly pull structured and unstructured information together and present the whole story to the customer relationship management (CRM) users who need it. Easy access to documents and content is a key requirement in fully leveraging a CRM system. 95% of CRM users want easy access to the latest version of their files and documents and 55% of CRM customers see "ease of use" as the most important feature.
HR | content mangement | ecm | erp | human resources
The best way to think about HR process automation is by thinking about it over the lifecycle of an employment relationship and the kinds of documents that are typical in each stage of the life cycle.
HR | content mangement | ecm | human resources
Every day represents a new set of people-process-technology challenges for HR professionals. From the time a prospective employee first comes into contact with an organization to the time they leave or retire, HR professionals must deal with myriad of documents and processes that span the entire lifecycle of an employment relationship.
Compliance and records management | big data | governance | intelligent information management | security
The amount of data stored on electronic systems today is exploding and growing at an exponential rate. Data breaches, privacy concerns, and growing e-discovery costs continue to evolve how organizations approach controlling their business data while balancing worker productivity. Aged or poor data hygiene can further increase organizational inefficiencies, in aggregate costing billions annually.