AI | Artificial Intelligence | big data | bigdata | content services
Seven (yes, seven!) years ago, AIIM published "The Big Data Balancing Act - Too much yin and not enough yang?" The author of the report was none other than Nuxeo's David Jones, who worked as a business analyst for AIIM at the time.
content management | ecm | intelligent automation | modernization | rpa
Intelligent Automation requires both a top-down and a down-up strategy and the proper content capabilities to drive this strategy.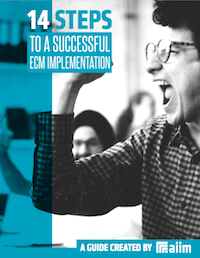 14 Steps to a Successful ECM Implementation
Making an ECM implementation successful requires planning and attention to detail. The best way to create the right solution is to identify organizational goals and priorities. Learn how to manage a successful implementation in our free guide.
content management | digital disruption | ecm | information management | modernization
The combination of cloud technologies plus mobile is a volatile one when it comes to the sustainability of existing organizations. We've never before been in a disruptive environment quite like this one, and it demands much more agile approaches to IT. Established incumbents are being challenged on every front. Consider the following:
CRM | HR | bpm | erp | process management
I've been working on a project over the past few weeks focused on the role that content plays in core business processes, specifically Human Resources (HR), Customer Relationship Management (CRM), and Enterprise Resource Planning (ERP).
automation | content mangement | intelligent information management | webinar
Information is cascading down upon every organization in unprecedented volumes and forms, challenging traditional and manual concepts of records management and information stewardship. This information tsunami is happening at the very time that the process value of these digital assets is more mission-critical than ever.
industry watch | research | statistics
I am interested in forming a dedicated group of knowledgeable end users to provide insight on key trends in Intelligent Information Management. The intention is to systematically identify: