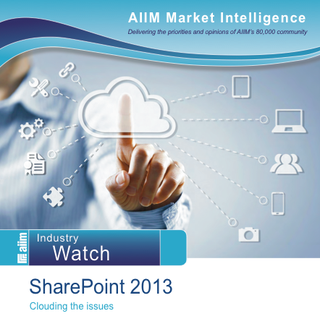 Subscribe
Hot off the presses -- New #SharePoint market assessment from #AIIM
Enterprise Content Management (ECM) | Sharepoint and Office 365 | eDiscovery
We've just released our new SharePoint survey. First thing, before talking about some of the insights in the report by AIIM Analyst Doug Miles, is to GET YOUR COPY. The research is free, but only for a short period -- after that, it will become a member only resource.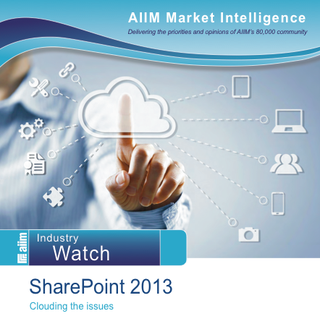 I'll probably do a follow-up post on some of the numbers, but let me for now hop to the end of the report and recap some of Doug's recommendations based on the research. Sound advice.
Doug's Recommendations
If your existing SharePoint deployment is struggling or stalled, do not assume that upgrading to 2013 will
fix it. Consider whether the drive to go forward resides just in the IT department or is more of a business
project.
Endeavor to re-kindle progress before moving on to the new version. Consider calling in external help:
this may be in the form of external consultants, external training, or third-party add-on suppliers.
Above all, look at user acceptance of information governance as a concept, and how it is embodied in
SharePoint specifically. You may need to re-address policies, and carry out re-training. Consider making
it easier for users to comply with policy by using third party products for metadata automation, and
providing access through familiar UI's like Outlook.
Investigate the new features and functions of SharePoint 2013. Take as objective a view as possible. Talk
to others in the SharePoint community about their experience. If you don't understand the implications of
some of the features call in external help.
If your current deployment of SharePoint has metadata deficiencies or security inconsistencies, consider
using a migration tool to align and fix the data into a "clean" 2013 system. This will give you the best
opportunity to correct long-standing issues.
Using SharePoint 365 as a cloud service, fully integrated with Lync and Exchange 365, and more widely
available outside the firewall, is an attractive proposition, but be aware that this may also limit your ability
to port your custom applications, and to integrate with other on-premise systems. You may also be locked
into the Microsoft upgrade schedule and be compromised on customization compatibility.
Do not rely on SharePoint 2013 to kick-start your mobile access, content-sharing and social business
initiatives. It may suffice, but compare and contrast the offerings from best-of-breed products or
integrations. Chances are you could get started now without upgrading to 2013 first.
The same is true of records management. Don't settle on SharePoint simply because you have it.
Consider your needs for secure access, compliance and e-discovery across the business, and include
paper records and electronic. Then evaluate SharePoint's capabilities in this area.
Do not assume an either/or scenario for records management. Your existing system(s), existing
suppliers, or your outsource may be able to provide a win-win integration with SharePoint.
Get the report NOW.