agile | business agility | digital transformation,
Agile project management is an effective way to manage complex projects. Why is agile so well-suited for long, complicated projects? The agile mentality underscores the importance of communication, collaboration, and continuous improvement. Agile project management is truly an amazing framework that has successfully transformed lagging organizations. Making coworkers feel more connected and engaged with each other and the project means ideas are more easily exchanged and improved upon. Teams are more cohesive, flexible, and adaptive, creating a company culture that fosters growth on every level.
Project Planning | agile | project management
A great project development team can only be great with the right tools. Through the numerous project management methodologies and top-down inferences, there is one constant; management tools. Even the best managers can't work efficiently without them. They range from the micro to the macro and cover all of the aspects of a project's lifecycle. They create an atmosphere of greater cooperation and productivity. This makes them even more valuable to the heads. All leaders want effective teams and all effective teams use project management tools. In this article, we are going to cover some of the very best tools on the market today.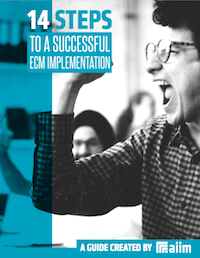 14 Steps to a Successful ECM Implementation
Making an ECM implementation successful requires planning and attention to detail. The best way to create the right solution is to identify organizational goals and priorities. Learn how to manage a successful implementation in our free guide.
Project Planning | agile | project management
Agile companies are ambitious. Agile teams seek to reach new heights by employing an iterative approach. While agile project management is an extremely popular project management framework, it's not wholly understood. More importantly, misusing the methodology can spell disasters for teams. Agile organizations have to be careful especially when hiring promising project managers to lead a new team. Here are 5 project management mistakes agile organizations should avoid at all costs:
agile | business agility | digital transformation,
Software development is a process fraught with pitfalls. If you aren't careful about managing a development team, even a highly-skilled team, it's easy for your product to become vaporware. In order to ensure your project stays within budget, you'll need to understand what factors lead to an efficient development team. Software development is a combination of science, art, and business. You'll need to gather data and apply that data to your efforts, but you'll also need to rely on intuition, experience, and collaboration.