AI | Artificial Intelligence | automation | document | document management
Artificial Intelligence (AI) is obviously all the rage. Consider the search traffic on "Artificial Intelligence" since early 2016. As a result, just about every technology product in the world now seems to have the artificial intelligence "label" attached to it.
AI | Artificial Intelligence | automation | employee engagement
Artificial intelligence has the ability to change our lives for the better. Increasingly, businesses are looking to automation to complete tasks in a more cost effective and efficient manner. Unfortunately, automation may lead to job loss. In fact, the finance, manufacturing, and service industries have already cut jobs due to automation.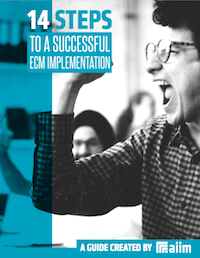 14 Steps to a Successful ECM Implementation
Making an ECM implementation successful requires planning and attention to detail. The best way to create the right solution is to identify organizational goals and priorities. Learn how to manage a successful implementation in our free guide.
AI | Artificial Intelligence | analytics | automation | data
What worries us most is often not what actually gets us—that is, causes us our biggest problems. The enormous human capacity for worry can result in productive focus and taking action. Artificial Intelligence (A.I.) inspires our imaginations, invokes our worst nightmares and touches our deepest fears. Near-term, it threatens to take away our jobs and leave us with no way to feed our families.