While Artificial Intelligence (AI) has the potential to be a very powerful tool in information management, the topic is so wrapped up in hyperbole and confusion that it can be challenging to cut through all the noise, causing many to fear the complexity of AI. As you may know, AIIM recently launched a new training course titled Practical AI for the Information Professional. The challenge presented to my colleague Kashyap and I was to take a very complex and hyped topic and make it understandable and relevant to the real world needs of the business -- cutting through the hype, demystifying the technology and providing sound advice and guidance. New Training Course from AIIM: Practical AI for the Information Professional What we found in our research was that AI is not as complicated or daunting as most believe. We discovered in our dozens of conversations with folks from organizations of all sizes that there are three major misunderstandings about the use and value of AI.
AI | content analytics | enterprise content management | machine learning
Digital transformation means reworking business processes to take maximum advantage of data and digital content. Better, faster, and cheaper content management is one goal, but the real payoff is in automating routine tasks including customer interactions. More data and process improvement will, in turn, allow us to do more with our content, to reach new audiences and boost satisfaction and profitability, however you measure it. To get there you need AI -- algorithms, models, and measurement -- and you need to trust that what you've built will do the job reliably and correctly.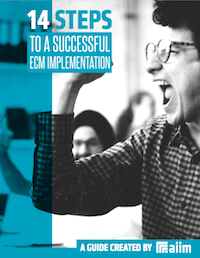 14 Steps to a Successful ECM Implementation
Making an ECM implementation successful requires planning and attention to detail. The best way to create the right solution is to identify organizational goals and priorities. Learn how to manage a successful implementation in our free guide.
AI | Artificial Intelligence | digital transformation, | podcast
If you take a look around your office, home, or even places like your car you're sure to see it – Artificial Intelligence. And it's not just in our personal lives, in the world of business we continue to grow and expand the way we work with the use of automation, smart machines, and more.
AI | Artificial Intelligence | automation | document | document management
Artificial Intelligence (AI) is obviously all the rage. Consider the search traffic on "Artificial Intelligence" since early 2016. As a result, just about every technology product in the world now seems to have the artificial intelligence "label" attached to it.
AI | Artificial Intelligence | automation | employee engagement
Artificial intelligence has the ability to change our lives for the better. Increasingly, businesses are looking to automation to complete tasks in a more cost effective and efficient manner. Unfortunately, automation may lead to job loss. In fact, the finance, manufacturing, and service industries have already cut jobs due to automation.
AI | Artificial Intelligence | analytics | automation | data
What worries us most is often not what actually gets us—that is, causes us our biggest problems. The enormous human capacity for worry can result in productive focus and taking action. Artificial Intelligence (A.I.) inspires our imaginations, invokes our worst nightmares and touches our deepest fears. Near-term, it threatens to take away our jobs and leave us with no way to feed our families.