Enterprise Content Management (ECM) | Information Management | aiim
For AIIM, 2017 began with this provocative question: In an Artificial Intelligence world, where deep learning completely shrinks the development time while amping up the computing power, do content management capabilities become irrelevant and obsolete?
We introduced something new to The AIIM Conference in 2016, an element of social responsibility. As the VP of Events here at AIIM, it was incredibly important to me that we give something to a charity local to our host city of New Orleans that our attendees had created.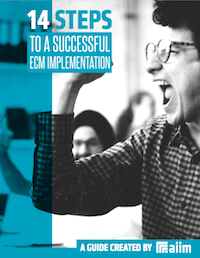 14 Steps to a Successful ECM Implementation
Making an ECM implementation successful requires planning and attention to detail. The best way to create the right solution is to identify organizational goals and priorities. Learn how to manage a successful implementation in our free guide.
Content Management | Enterprise Content Management (ECM) | Industry statistics and research | aiim | industry watch
What's the status of Information Management in your organization? Check out our new State of the Industry findings. Managing and recording what the organization knows, what has been said, what inputs are received, what decisions and commitments have been made, and what results are achieved, is paramount to improvement and success. Failure to manage this information, and make it available for sharing, search, controlled access, defined process, audit and secure archive limits operational capability, stunts new initiatives and exposes the business to potential liabilities. In this [free] executive summary, we've compiled our key findings, including: How different ECM system strategies match the overall goals of the information management lifecycle. The governance and adoption issues that users face. The impact of extending access to mobile and the new cloud services. AIIM's new Industry Watch report -- 6 key findings: The number of large organizations citing compliance and risk as the largest driver for IM has risen sharply in the past year from 38% to 59%. 44% of mid-sized organizations also cite this as the biggest driver whereas smaller organizations consider cost savings and productivity improvements to be more significant drivers. 17% of responding organizations have completed an enterprise-wide ECM capability, including 4% on a global scale. 23% are rolling out company-wide, and a further 15% are integrating across departments. 6% are looking to replace existing system(s) with a new one. Only 18% align their IM/ECM system strategies with agreed IG policies. 15% have IG policies but they do not drive decisions. 29% have no IG policies. 39% describe their email management as "chaotic", including the largest organizations. 55% agree that email is their big untagged, ungoverned, high-risk content type. Only 10% selectively archive emails to ECM, RM or SharePoint. 22% consider their ECM project to be somewhat stalled, and 21% have user adoption issues. 52% admit that they are still dependent on their network file-shares. 38% are actively focused on extending their ECM functionality and 25% are rolling out to a wider user-base. 30% are improving collaboration and 21% are working on mobile and remote access. Get it while it's hot!
Enterprise Content Management (ECM) | IIM x | aiim | aiim16 | predictions
I'm starting to work on my opening AIIM keynote and thinking about how technology and the nature of what it means to be an information professional has changed and will continue to change. And also reflecting a bit on my 20 years in this crazy industry.
Industry statistics and research | aiim | statistics | trends
Changes in the Information Management Industry 2015 brought about some interesting changes in the information management industry. Mergers, and acquisitions like that found in Dell and EMC, and partnerships formed like that of IBM and Box, potentially change the technology landscape of information management and impact the way organizations operate. Along with watching these types of activity, AIIM Research this past year focused specifically in the areas of SharePoint, ECM, Content Analytics, Mobile and Cloud, Paper-free environments, Information Governance, and Data Privacy, and put together a great wrap up in a free e-Book. Believe it or not, there are 137 -- that's right, one hundred thirty-seven, count'em -- key findings from AIIM research in this ebook. Get the eBook (Free) -- http://info.aiim.org/information-management-2016-and-beyond Some highlights: SharePoint is still viewed as an essential tool yet many organizations indicate their SharePoint projects are stalled and failing to meet expectations. This is perhaps due to a lack of focus and direction as to the business problem SharePoint will address. ECM is now considered vital for businesses and down time seen as having a major negative impact. Where once ECM was a nice to have, in 2016 it is considered a mission-critical part of business operations. It is seen as the place where vital business information is housed, and access to it must be maintained at all times. Here's the link for Information Management: 2016 and Beyond. Get it! Content Analytics applications have also entered the spotlight in a greater way. Businesses are turning their attention to analytics for inbound routing and text recognition for content classification and metadata correction, improved search and knowledge extraction, and to provide business insight. The latter being one of extending content use to a greater audience and identifying recipients who have the need for it based on specified user/case profiles. Mobile and Cloud continue to be in discussions with a strengthened tone of being part of the bigger information eco-system and IT infrastructure. Where once these were viewed as non-essential elements, businesses are now considering the risk factor of unauthorized use and the benefit of sanctioned and vetted cloud and mobile options. Paper-free, while not a new concept, is gaining momentum with many organizations and for different reasons that those of the past dealing with storage alone. Businesses have come to realize that capturing information, whether digitizing the physical or digitally born, at the first touch-point of a process, brings this information under corporate control and into a workflow sooner, more securely, and readily available for action to be taken. Information Governance has taken center stage in a way it has not before, bringing about a stronger awareness amongst business leaders that more and tighter control is needed over their information and information practices than ever before. Information Governance is now seen to address the holistic organization by addressing people, process, information and technology. Data Privacy, due to the number of security breaches reported in all markets ranging from healthcare, to retail, has become a hot button for many businesses and consumers. While governance and technology are essential elements of a solid information eco-system, the goal and one of the key drivers is data privacy – keeping information secure, the environment compliant with legal, industry, and regulatory guidelines, and accessible to only those who have proper authorization. Information Management now must look at the business, organization, and operations with a holistic view. People, process, technology, and information need to be addressed in concerted not a siloed approach. Get the e-Book (Free) -- http://info.aiim.org/information-management-2016-and-beyond ----- You mean there's more? Heck yeah - our State of the Industry Executive Summary has just been published as well -- get it HERE (also free): And one more FREE item just because I'm in a good mood. 21 Tips to Put Digital Transformation into Action.
Maybe it was a bad idea to start a blog post after dinner, because I have one thing on my mind…ICE CREAM! Are you craving it too, now? Well, grab a bowl and read on. Trust me, this does eventually tie into Information Management.