AIIM19 | digital transformation, | intelligent information management
We have a number of important sessions planned for the AIIM19 conference coming to San Diego on March 26-28. I spoke with Carah Koch, the Director of Enterprise Content Management for the Metropolitan Council of the Twin Cities, about her session IIM Project Management and Self-Preservation: Why Successful Projects Are Not About You, and asked her to give us a short preview of what to expect.
AIIM19 | digital transformation, | intelligent information management
AIIM19 is coming soon to San Diego on March 26-28 and as usual the gathering will be the place to be for information management professionals. If you plan on attending you should mark your calendar for an important roundtable session called "When You Are in the Storm: Content Analytics & ECM Implementation Across the Enterprise" being hosted by John Daly, Information Governance Manager the Metropolitan Sewer District in St. Louis. I asked John to give us a small preview of the session.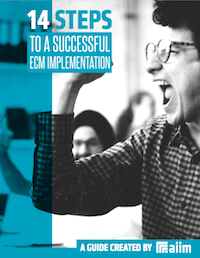 14 Steps to a Successful ECM Implementation
Making an ECM implementation successful requires planning and attention to detail. The best way to create the right solution is to identify organizational goals and priorities. Learn how to manage a successful implementation in our free guide.
AIIM19 | digital transformation, | intelligent information management
AIIM19 is just around the corner, March 26-28 in San Diego, and a number of interesting sessions and panel discussions are planned. To give you a sneak-peek, I spoke with one of the presenters this year, Lewis Eisen from Perfect Policies about his session titled "Writing Effective IMM and IT Policies."
AIIM19 | IIM | customer experience | intelligent information management
At AIIM, we believe that every organization is on — or should be on — a Digital Transformation journey. How effectively you navigate this journey relies on how adept your organization is at combatting the rising tide of information chaos. This requires new strategies and skills that extend beyond traditional ECM. We call this modern approach Intelligent Information Management. The purpose of this journey, the reason for Digital Transformation, is a drive to understand, anticipate, and redefine internal and external customer experiences.
AIIM18 | AIIM19 | aiim conference | conference | intelligent information management | podcast
Last week, we opened up registration for The AIIM Conference 2019 - our annual conference that brings together over 600 information professionals from around the world for 3 days of learning, networking, and fun. If you've never been to one of our conferences or haven't been in a few years, you may be wondering what to expect. Sure, we could try and write up something up and do our best to describe it, but we have a better idea - hear it directly from last year's attendees, keynote speakers, and sponsors. On this podcast episode, your host Kevin Craine gets the scoop on The AIIM Conference. Hear from AIIM18 keynote speaker Mike Walsh, Records and Information Manager for the Federal Home Loan Bank of Chicago Kathy Malloy, Torey Hunt from Adlib Software, and Paula and Tony from ABBYY.