Consider these three data points from AIIM's Process Improvement and Automation 2016 - A Look at BPM.
bpm | business process management | ecm
I have some awesome new educational resources to tell you about, but first I'd like to extend a very special invitation for you to join the AIIM Online Community. This online forum is the perfect place to engage in discussions with your peers, get your questions answered, find a mentor, find meetings in your area, and more! Check it out - it's THE place where the AIIM Tribe congregates throughout the year to lurk, learn, and reach out for – and give – assistance. Now on to more FREE stuff, here are a couple of great resources that have been recently published. Check them out below.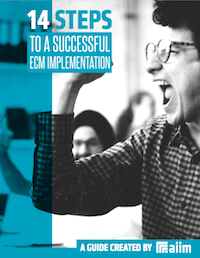 14 Steps to a Successful ECM Implementation
Making an ECM implementation successful requires planning and attention to detail. The best way to create the right solution is to identify organizational goals and priorities. Learn how to manage a successful implementation in our free guide.
bpm | digital transformation, | paperfree office | paperless
Chinese New Year is host to many traditions from tasty, meat-packed dumplings to an all hours riot of fireworks. Over its two weeks, the whole country erupts in celebration—it's a sight to be seen. But above all Spring Festival traditions, I have a clear favorite; maybe you have heard of it before: the gifting of red paper envelopes filled with money.
bpm | paperfree office | paperless
Although paper is still heavily used in the Insurance sector, the reality is that we're living in an age where paper is slowing us down. Often referred to as multichannel inbound content, information enters the business in many different ways and in many forms. In addition, the amount of information we are dealing with is on the rise, which means the risk of paper-based information being misplaced, lost, or misclassified is greater than ever.
bpm | business agility | business applications | ecm
Have you taken time lately to think about how today, everything happens fast, and needs to get faster? Especially your critical business processes ranging from human resources, marketing, sales, engineering—everything seems to be running at a breakneck pace. The reality is that work is always working, even if we aren't directly involved.
auto-classification | bpm | case management | content analytics
We use Case Management to improve the way we serve our partners and customers by grouping all of their related information together, front-and-center, in an easy to access "case." At the heart of serving customers is the daunting task of trying to put all of the information included in a case to work by making a decision or an informed action. But, in a world that seems to triple its information output every year, this task is becoming harder and harder to manage. So, how can you possibly know all there is to know to run your business?