capture | ecm | enterprise content management
5 Elements of Real-time Capture Why should your organization care about the differences between real-time capture and batch capture? Each has a purpose and benefit to an organization, based on the need, information type, and value it represents in relation to operational outcomes. Many businesses today, are facing increased demands to capture information from unique applications immediately, and address multi-channel capture at the first touch-point of content. They are looking for ways to identify and harness the power of the most effective and efficient capture services to automate the capture process and integrate it with business critical processes and workflows. These developing requirements are defining the discussions around real-time capture.
capture | ecm | enterprise content management
Open Platforms: Perceptions and Realities What exactly does it mean to have an "open platform"? The perception is that an open platform has no restrictions or limitations; an open platform is agnostic. Yet reality is that there could be some limitations or restrictions. For example, there are ECM solutions that are built upon a proprietary database and are still considered to be "open". The reason being they support a specific set of open standards for interoperability and integration. While the concept is sound, and many businesses look to a day where interoperability and integration across the enterprise is achieved, AIIM research finds that only 8% of organizations have accomplished this.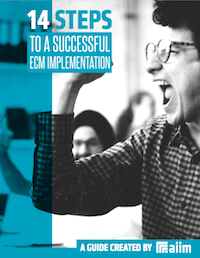 14 Steps to a Successful ECM Implementation
Making an ECM implementation successful requires planning and attention to detail. The best way to create the right solution is to identify organizational goals and priorities. Learn how to manage a successful implementation in our free guide.
capture | digital transformation, | digitization | information capture
With a little more than 3 months left of 2018, many businesses are focusing on what goals they want to achieve in the New Year. While some have talked of digital transformation, there are still an alarming number of workplaces that have yet to fully embrace digitizing paper documents and processing digital documents.
capture | digital transformation, | ecm | intelligent information management | machine learning
When I was a young child, in an era when school papers had to be researched in libraries with card catalogs and shelves upon shelves of books, my father had the bright idea to purchase a complete set of Encyclopedia Britannica. Now, we lived on a tight budget and my mother wasn't too thrilled with this splurge when a perfectly good library was so close to home. Dad wouldn't hear of it! "Our girls need the best education we can offer," so of course, mom relented.
Digital business | business process | capture | gdpr | information capture | information security | privacy | scanning | security
A repository containing documents that were digitized inconsistently or inaccurately presents a new set of problems for an organization, problems that can hinder the productivity gains they had hoped to achieve.
business intelligence | capture | intelligent capture | paperfree office | paperless
Oh that joke is as old as you can imagine, and I have heard a lot of them. And I have heard "offices will be paper free when (you fill in the blank)". In fact, I was once one of those people and to an extent still am because it is still true.