Compliance and records management | big data | governance | intelligent information management | security
The amount of data stored on electronic systems today is exploding and growing at an exponential rate. Data breaches, privacy concerns, and growing e-discovery costs continue to evolve how organizations approach controlling their business data while balancing worker productivity. Aged or poor data hygiene can further increase organizational inefficiencies, in aggregate costing billions annually.
Compliance and records management | content management | metadata | records management
We once had an IT person who worked for us who took a page out of the old Saturday Night Live routine, Nick Burns -- Your Company's Computer Guy, who guarantees to "fix your computer and then make fun of you."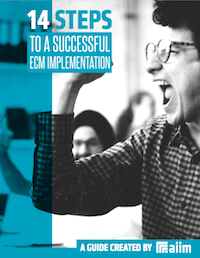 14 Steps to a Successful ECM Implementation
Making an ECM implementation successful requires planning and attention to detail. The best way to create the right solution is to identify organizational goals and priorities. Learn how to manage a successful implementation in our free guide.
Compliance and records management | digital preservation | electronic records management | information governance | preservica
According to IDC, the digital universe is doubling every two years, and will reach 40,000 exabytes (40 trillion gigabytes) by 2020. (Note: A single exabyte of storage can contain 50,000 years' worth of DVD-quality video.) Organizations that fail to immediately address the long-term preservation implications of this massive tsunami of data as it enters the organization will never ever catch up.
Compliance and records management | archive | electronic records management | employee engagement | engagement | social meda | systems of engagement
Employee Engagement is the Holy Grail "Engagement" is the Holy Grail for every organization, and enterprise collaboration systems are at the heart of efforts to more deeply engage employees. Deloitte notes, "In a digital world with increasing transparency and the growing influence of Millennials, employees expect a productive, engaging, enjoyable work experience."
Compliance and records management | certified information professional | cip | ecm | electronic records management | enterprise content management | erm | information management
As part of our Certified Information Professional Spotlight series, I recently sat down with Elizabeth Croom, Assistant Legal Counsel for a state's Administrative Office of the Courts. We chatted about why she chose to get certified and the best ways to prepare for the exam.