Artificial Intelligence (AI) | Enterprise Content Management (ECM) | content analytics | machine learning
Digital transformation means reworking business processes to take maximum advantage of data and digital content. Better, faster, and cheaper content management is one goal, but the real payoff is in automating routine tasks including customer interactions. More data and process improvement will, in turn, allow us to do more with our content, to reach new audiences and boost satisfaction and profitability, however you measure it. To get there you need AI -- algorithms, models, and measurement -- and you need to trust that what you've built will do the job reliably and correctly.
Data Management | content analytics | machine learning
You manage a large facility with multiple buildings across the campus. Each building while somewhat unique, is equipped with plumbing, electrical, security, HVAC, and other elements that must be monitored, maintained and repaired at some point. Ideally, you would have an army of staff available to monitor and check everything constantly to provide feedback and predict what will happen before catastrophe strikes, but you don't. This is where machine learning and industrial operations can play a significant role.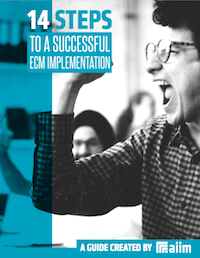 14 Steps to a Successful ECM Implementation
Making an ECM implementation successful requires planning and attention to detail. The best way to create the right solution is to identify organizational goals and priorities. Learn how to manage a successful implementation in our free guide.
Content Management | Enterprise Search | content analytics
My wife and I are big fans of the British Bake Off show – it's called the Great British Baking Show in the US for Pillsbury copyright reasons.
Content Management | Enterprise Content Management (ECM) | Information Governance | content analytics
I thought I would highlight some of new content assets that have crossed my desk -- some by me, some by others. They are all free. Pick the ones you want and knock yourself out!
IIM x | analytics | content analytics
Content analytics provides the "last mile" of insight, ultimately required for automating business processes and creating customer-centered journeys that go beyond conventional encounters.
Enterprise Content Management (ECM) | content analytics
Already February has been a big month in the AIIM community and there's been a wealth of great content floating around. Here are a couple of my favorites; the best part is these are all FREE to download. Check them out below.