content federation | content integration | content management | ecm | systemware
As Jerry Garcia might say, "What a long strange trip it's been." Think about the incredible changes going on in the content management space:
analytics | collaboration | content management | thanksgiving
Here are some eBooks, Guest Columns, and Tip Sheets you may have missed. A Thanksgiving treat.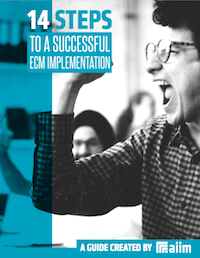 14 Steps to a Successful ECM Implementation
Making an ECM implementation successful requires planning and attention to detail. The best way to create the right solution is to identify organizational goals and priorities. Learn how to manage a successful implementation in our free guide.
content integration | content management | ecm
Technical complexity, and in some cases vendor lock-in, make it very difficult to connect all of the various content systems that typically exist in every organization and access the right content. And that has a negative impact on the productivity of your knowledge workers and on your organization's ability to respond in a timely manner to changing market conditions.
content management | digital transformation, | rhinodox | semantic | semantic web
Most organizations are on some sort of Digital Transformation journey. Everyone wants it. But what exactly is it? And how do you get there? How can you navigate the changes Digital Transformation brings while staying focused on business growth? How do you avoid disenfranchising employees and losing customers to more digitally savvy competitors?
content federation | content integration | content management | ecm | systemware
Organizations have long struggled with the magic "triad" of people, processes and technology. This struggle has remained constant through multiple generations of technology – from paper to microfilm to imaging to document management to enterprise content management.
cloud content management | content integration | content management | ecm
Organizations have a decision to make relative to the large volume of documents in existing legacy systems. The challenge is that organizations may have millions of documents. Which should be moved and which should stay where they are? What can be safely archived or deleted? According to a Forrester survey, only 7% of organizations surveyed have migrated all content to new ECM systems. The vast majority – 87% – retain some or most legacy content remains in old systems. Updating your infrastructure to take advantage of the benefits of a more modern-cloud-based structure requires a content integration platform – and one that is flexible enough to evolve over time.