Content Management | Enterprise Content Management (ECM) | IIM x
Every day represents a new set of people-process-technology challenges for HR professionals. From the time a prospective employee first comes into contact with an organization to the time they leave or retire, HR professionals must deal with myriad of documents and processes that span the entire lifecycle of an employment relationship.
Compliance and records management | Content Management | Electronic Records Management (ERM) | Metadata
We once had an IT person who worked for us who took a page out of the old Saturday Night Live routine, Nick Burns -- Your Company's Computer Guy, who guarantees to "fix your computer and then make fun of you."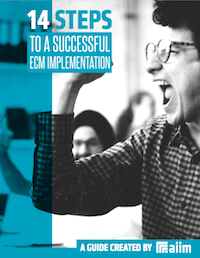 14 Steps to a Successful ECM Implementation
Making an ECM implementation successful requires planning and attention to detail. The best way to create the right solution is to identify organizational goals and priorities. Learn how to manage a successful implementation in our free guide.
If we were to believe everything we hear in the press, then all computing and data storage is moving to the cloud — and quickly! The reality, though, is more nuanced. Firstly, there is no singular cloud; instead, there are hundreds of clouds to choose from. Secondly, not everything is moving to the cloud, and even the stuff that is, is moving slowly. The world of Information Management has been somewhat slow and reluctant to move to the cloud, and often with good reason.
Content Management | Information Management
This is the third article in a series; the other two are: Surviving Disruption -- Strategies for the Era of AI and Machine Learning Looking at Information Management Through a Different Lens Digital Transformation effectiveness is imperiled by a rising tide of information chaos and confusion. AIIM believes that information is the currency that fuels an organization. As such, it is an organization's most important asset. But at the very time that information assets are increasingly important, our ability to manage them is eroding due to the exploding volumes, variety, complexity, and velocity of information coming into our organizations. Addressing "Big Content" and the rising tides of information chaos is a prerequisite to solving the Digital Transformation puzzle.
Content Management | Information Management
Organizations need to think about how the advent of the third wave of exponential change – the drive to Artificial Intelligence and Machine Learning - will require them to look at the future through a different set of lenses. I'd like to offer three of these "lenses" – I'm sure there are more – but I think these three are ones that those in this community are uniquely prepared to tackle.
Artificial Intelligence (AI) | Content Management | Information Management | machine learning
Truly disruptive moments occur only once in a generation. They occur when the cumulative inertia of technology innovation combines to disrupt business models. And the heart of disruption is ultimately when radical technology changes are standardized and then incorporated into new business models.