Digital business | business process | scanning
You have led the pack in creating a digital transformation strategy but how do you get your employees to engage and help your organization realize its goals? Embracing new technology is not the major challenge – human behavior is a significant factor in the success or failure of such projects. In this article, we look at 5 ways to change your employees behavior and drive digital transformation in your organization.
Digital business | dark data | digital transformation, | pdf
What if every file—from documents to multimedia—was digital and used the same file format: "File.everything"— wouldn't that be nice? But for most workers, the present information environment couldn't be more different. Today, the typical information ecosystem is a content jungle: multiple file formats, a mix of structured and unstructured content, all growing wildly throughout the organization. Under these conditions, search is difficult; unused operational information atrophies into "dark data," or the untapped, operational content that sits idle in our repositories. Dark data is at once a security vulnerability, as well as a missed opportunity to leverage information to its fullest potential. Fortunately, today, there is a solution.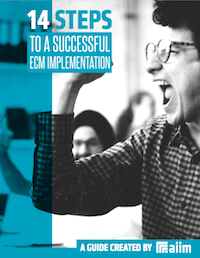 14 Steps to a Successful ECM Implementation
Making an ECM implementation successful requires planning and attention to detail. The best way to create the right solution is to identify organizational goals and priorities. Learn how to manage a successful implementation in our free guide.
Digital business | business process | capture | gdpr | information capture | information security | privacy | scanning | security
A repository containing documents that were digitized inconsistently or inaccurately presents a new set of problems for an organization, problems that can hinder the productivity gains they had hoped to achieve.
Digital business | business process | capture | gdpr | information capture | information security | privacy | scanning | security
An increasing number of organizations are digitizing their business processes to improve productivity and reduce costs and the risk of human error. Often organizations start by scanning to email where a person scans a document which is sent into their personal email inbox and is then manually delivered to the final destination. This is extremely bad for businesses and replacing scan to email should be a key part of any organization's digitization strategy. How Scan to Email is Damaging Your Business The manual nature of the scan to email process and its limitations are outdated and paradoxical to everything digitization aims to achieve. Scan to email also poses several issues which makes it harmful for your business, including: Unsecure and Non-Compliant – A scanned document sent by email allows sensitive and confidential documents to be forwarded easily to anyone outside the company or to the wrong people internally. In industries that must adhere to compliance regulations to ensure privacy, the potential for human error or malicious behaviour can have serious consequences. Inconsistent Document Format, Quality and File Naming – Today's scan or multifunction printer devices are complicated with complex menu systems. The user has to make many decisions, including the output file type, scan quality settings and name of the document. This results in inconsistencies, making it difficult to manage digital content. Limitations of Image Files – Traditional scan to email usually only creates an image file as a read-only PDF. Consequently text cannot be keyword searched and retrieved easily. Costly time is spent on searching for documents that could be better spent on more productive activities. A misuse of Email – Any IT administrator will tell you that cost of email storage is expensive. Scanning to email, forwarding by email – clogs up email infrastructure. Rarely does anyone permanently delete scans sent by the printer. What is the alternative? So, what is the alternative? Quite simply, companies should look for solutions that offer digital document workflows with built-in tools to eliminate these issues. Removing as much of the manual process as possible speeds up the process, improves accuracy and provides consistent digital content that can be searched and retrieved easily. Further, workflows that automatically send the encrypted digital document to a pre-defined, authorized destination is a critical need. The destination might be a cloud-based repository (such as Dropbox Business), an on premise electronic content management (ECM) or a line of business application. By defining an authorized destination and automatically routing the scanned document to that location, the possibility of digital files getting lost or into the wrong hands is eliminated. What are Digital Document Workflows? Digital document workflows are templates that are set up by an administrator and determine scan parameters, including the quality, name, format as well as the destination of the document. These automated workflows simplify and secure the scan process for the user, reducing it to a simple and accurate one click process, all carried out at the scanner or MFD (multifunctional device). The document is output into a usable file format so that it can be both edited and searched to enable quick and easy retrieval. In terms of security, individuals only see the workflows they are authorized to use, making it quick, simple and secure. Further, workflows can be created for a particular user or groups of users; for example for all users responsible for scanning invoices. In this way, all users create and distribute scans in a consistent manner. Let's look at a particular use case for automated scan workflows. Scan and forget Compared to scan to email, digital document workflows enable the user to scan and forget. The workflow is predefined and with one press of a button, the document is scanned, stored and, if needed, an email is sent to someone automatically alerting them of the document's arrival. In this sense, the user simply scans and forgets about the details as they are taken care of automatically. Contrast this to scan to email. At the scan device, the user has to decide whether the scan will be a pdf or a jpg typically and the scan settings have to be chosen by stepping through complicated and confusing menu systems. This is repeated for each scan. Then it is back to the workstation to check email for the scan's arrival. Next, open email and save the document with a name that makes sense for her (but maybe not for anyone else) to the desktop or networked folder. This is repeated for each scan. In many cases, an email is sent to someone to let them know the scan is on a networked folder or the email itself contains the scan (email clogging). In any of these steps, there is room for human error. There is little doubt that scan to email is an outdated, inefficient process that poses a high risk of human error. Scan workflows remove these issues. For any organization looking to improve efficiency through digitalization, replacing scan to email is essential. About the author: Wouter Koelewijn is Senior Vice President, Managing Director, Y Soft Scanning Division and an outspoken advocate for simplifying scanning on MFD's (Multifunction Devices). Prior to working with Y Soft, Mr. Koelewijn founded X-Solutions in late 2002 which was later acquired by Nuance in 2009. Prior to X-Solutions, Wouter was the CTO and co-founder of a Xerox concessionaire in the Netherlands from 1994-2002. Mr. Koelewijn is married and has two children. He enjoys skiing, swimming and sailing. Wouter.koelewijn@ysoft.com
Digital business | digital maturity | digital processes | digital transformation,
I've been collecting examples of "Digital Disruption" -- the negative flip side of Digital Transformation. In other words, examples in which a well-entrenched incumbent just failed to see the writing on the wall.
Digital business | digital transformation, | information chaos
Why Should You Care About Digital Transformation? Consider the following: "The speed of current breakthroughs has no historical precedent." --Klaus Schwab, World Economic Forum, 2016 "For the first time in history, the world's leading experts on accelerating technology are consistently finding themselves too conservative in their predictions…" --Steven Kotler "Uber, the world's largest taxi company, owns no vehicles. Facebook, the world's most popular media owner, creates no content. Alibaba, the most valuable retailer, has no inventory. And Airbnb, the world's largest accommodation provider, owns no real estate. Something interesting is happening." --Tom Goodwin, Havas Media, in Techcruch What the heck is going on and what does it have to do with Information Professionals? Simply speaking, according to the World Economic Forum, we are on the cusp of the next industrial revolution, one that is combining digital and physical systems to create radically new value propositions – and in the process, disrupting many existing businesses. How effectively an organization manages and recombines its information assets to create value is at the center of this revolution. Flexible, agile and responsive information flows are the central nervous system of the modern organization. In many organizations, these systems are short-circuiting, and drifting into chaos, unable to keep up with the escalating demands created by consumerization, cloud and mobile, and the internet of things. Central to addressing these challenges are two realizations: 1 -- Information is now your organization's most important asset, and 2 -- You need the skills to manage it. Depending on your role in your organization, your Digital Transformation challenges will fall into one of the following categories: Business Challenge Who Should Care AUTOMATION: How do I deliver solutions more quickly using mobile-first and lo- and low-code approaches? Line of business executives, web and mobile app developers, imaging and content specialists, business analysts, finance, HR, and operations executives, customer experience execs SECURITY/GOVERNANCE: How do I govern, value, manage, secure, optimize and protect my information assets, wherever they exist (cloud, on-premise, or some hybrid)? Records managers, information architects, E-Discovery, IT legal professionals, digital archivists ANALYTICS/INSIGHT: How do I digest massive amounts of new data, apply structure where it doesn't exist, and use that structure to put data and content into action? Marketers, line of business executives, information and data scientists, knowledge managers, information curators, customer experience execs I've put together some of the Digital Transformation insights from AIIM Board members and AIIM16 speakers into a new e-book -- it's FREE -- 21 Tips for Putting Digital Transformation into Action. Here are my "tips" -- find out more in the free e-book -- (get it HERE). Creating a Transformation Strategy Know where the puck is going. Think business, not fashion. Have a Disruption war chest! It's a journey, not a destination. Keep risk in perspective. One size does not fit all. Per Yoda, "Do or do not, there is no try." Preparing for Action Not all customers will immediately love the idea of disruptive change. Disruption is not just an external customer affair; the way work itself is being done is being revolutionized. Find out what your people are REALLY doing BEFORE you try to change it. If you can't measure it - don't do it. Make digital transformation pay for itself. Plan that when you fail (and you will), you will fail fast! Implementing Your Transformation Plan Mom was right. Before you do anything, clean your room! A unified information strategy is not a luxury. Focus, focus, focus. And then focus some more. Remember that simple is hard. Find a trusted partner that will listen and is excited about your journey. Leverage the technology you already use. Think BIG, start small, grow steadily. The last rule – Oh yeah, after all this is AIIM. You didn't think we would forget, did you? DO SOMETHING ABOUT THE PAPER! Not signed up for AIIM16? What? Hurry because hotel block closes on Friday.