content management | digital disruption | ecm | information management | modernization
The combination of cloud technologies plus mobile is a volatile one when it comes to the sustainability of existing organizations. We've never before been in a disruptive environment quite like this one, and it demands much more agile approaches to IT. Established incumbents are being challenged on every front. Consider the following:
digital disruption | project management
"Ideas are a commodity. Execution of them is not"-Michael Dell.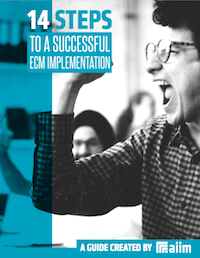 14 Steps to a Successful ECM Implementation
Making an ECM implementation successful requires planning and attention to detail. The best way to create the right solution is to identify organizational goals and priorities. Learn how to manage a successful implementation in our free guide.
digital disruption | information security | podcast | privacy
Who is AIIM? Well, that's a challenging question considering AIIM is an organization... But, when we take a step back, it's easier to see that AIIM does have a persona. It's you, me, and the other 155,000 global information professionals worldwide that make up the AIIM Community. So to be able to answer a question like "Who is AIIM?", we had to go straight to the source!
digital disruption | office365 | podcast | sharepoint | training
How do you make SharePoint and Office 365 deliver value as an intelligent information management platform? That's what we sought to find out when we first contacted SharePoint expert, Rob Bogue. Rob basically eats, breathes, and sleeps SharePoint, so we knew he'd be the perfect one to work with.
certification | certified information professional | certified information professionals | digital disruption | information certification | podcast
Test...Quiz...Exam...How do these words make you feel? For many, the mere mention of them is enough to conjure up feelings of anxiety, stress and pressure. You don't often hear people say, "I LOVE taking tests." At AIIM, we know tests can be downright scary. But, we also know the power of preparation and understanding. A lot of times fear comes from the unknown - in the case of a test, not knowing what to expect, not knowing if you're prepared, and just overall fear of failure from not knowing enough.
Artificial Intelligence | digital disruption | digital transformation, | machine learning | podcast
For me, "Artificial Intelligence" used to conjure up images of the latest Sci-Fi movie or things like the talking car KITT from the 80's TV show Knight Rider. It wasn't until fairly recently that I began to see this shift from Sci-Fi movie topic to business value.