digitization | ecm | intelligent information management
A new year gives us the chance to reflect on all we've accomplished and set our sights on new challenges to conquer. If you haven't embarked on your Digital Transformation journey, this is the perfect time to begin.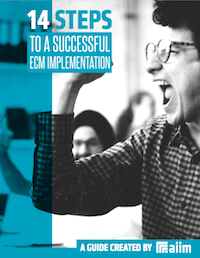 14 Steps to a Successful ECM Implementation
Making an ECM implementation successful requires planning and attention to detail. The best way to create the right solution is to identify organizational goals and priorities. Learn how to manage a successful implementation in our free guide.
digitization | ecm | erm | microsoft | office365 | sharepoint
A study (conducted by Hyperfish, Sharegate, and Nintex) found that 50% of organizations still use manual processes to enforce SharePoint governance. It doesn't have to be this way! New Office 365 capabilities allow you to automate important governance activities and core business processes.
digitization | erm | records management
There is nothing that brings a Digital Transformation journey to a halt more than a records management program that's stuck in the past. A modern enterprise needs records management practices that move the business forward, not hold it back.
digital transformation, | digitization | robotic process automation | rpa
Our third and final installment of our virtual event sneak peak is here. We are so close to unveiling "Going Digital: Strategies for Digitalizing the Enterprise"! Take a look at what you can look forward to:
digital transformation, | digitization | robotic process automation | rpa
This is the next installment of our sneak peak posts in anticipation for our virtual event, "Going Digital: Strategies for Digitalizing the Enterprise". Here's what our speakers had to say: