8 things | E2.0 | ECM.Social | IT | Local | aiim | consumerization | mobile
Sometimes, buzzwords really ARE changing the world.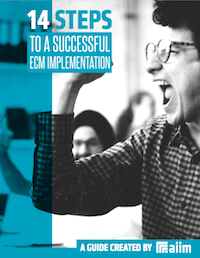 14 Steps to a Successful ECM Implementation
Making an ECM implementation successful requires planning and attention to detail. The best way to create the right solution is to identify organizational goals and priorities. Learn how to manage a successful implementation in our free guide.
E2.0 | Narwhal | Obama | Orca | Romney | certified information professional | elections
OK. We all swore on Election Day that we didn't want to hear one more word about anything to do with the Presidential election. Living in a swing state (Virgina), we were treated to an endless onslaught of horrendous negative ads from both candidates, plus at least 5-10 robo calls per day. The calls were not lost on kids as young as first graders. A friend of ours who teaches first grade reported that a student came in one morning, very excited, and reported, "Ms. Willis, you won't believe it. We got a personal phone call at home last night from BOTH Mitt Romney and Barack Obama."
8 things | Compliance and records management | E2.0 | Industry statistics and research | certified information professional | information certification
[Note: We will be doing a webinar on this topic, primarily for NA and SA audiences given the time of day, on Wednesday, December 12 at 2 pm Eastern time. We'll be doing a second webinar, at a time more convenient for European audiences at 2 pm British time on Thursday the 13th.]
E2.0 | IBM | Industry statistics and research | aiim | big data | bpm | certified information professional | cloudera | content | ecm | freeform dynamics | information certification | systems of engagement | systems of record
I've been thinking about the question of the relationship of content and unstructured information to the seemingly never-ending parade of articles about Big Data. There is a certain element to this thinking that frankly is opportunistic, finding me thinking, "Hey, if EVERYONE is going to talk about Big Data, I want a piece of that." But there is also the stubborn reality that unstructured information is the red-headed stepchild of the Big Data equation - and the source of so much untapped value and intelligence in organizations. And our community - users, solution providers and consultants - knows something about this whole messy question of unstructured information.