content management | ecm | intelligent automation | modernization | rpa
Intelligent Automation requires both a top-down and a down-up strategy and the proper content capabilities to drive this strategy.
content management | digital disruption | ecm | information management | modernization
The combination of cloud technologies plus mobile is a volatile one when it comes to the sustainability of existing organizations. We've never before been in a disruptive environment quite like this one, and it demands much more agile approaches to IT. Established incumbents are being challenged on every front. Consider the following: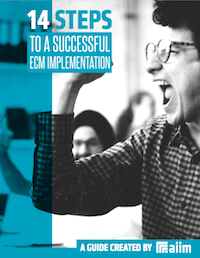 14 Steps to a Successful ECM Implementation
Making an ECM implementation successful requires planning and attention to detail. The best way to create the right solution is to identify organizational goals and priorities. Learn how to manage a successful implementation in our free guide.
CRM | Salesforce | ecm | erp
Every organization wants to increase agility and productivity by extracting maximum value from its processes and content. Organizations need to bridge the silos created by disparate lead applications to seamlessly pull structured and unstructured information together and present the whole story to the customer relationship management (CRM) users who need it. Easy access to documents and content is a key requirement in fully leveraging a CRM system. 95% of CRM users want easy access to the latest version of their files and documents and 55% of CRM customers see "ease of use" as the most important feature.
HR | content mangement | ecm | erp | human resources
The best way to think about HR process automation is by thinking about it over the lifecycle of an employment relationship and the kinds of documents that are typical in each stage of the life cycle.
HR | content mangement | ecm | human resources
Every day represents a new set of people-process-technology challenges for HR professionals. From the time a prospective employee first comes into contact with an organization to the time they leave or retire, HR professionals must deal with myriad of documents and processes that span the entire lifecycle of an employment relationship.
Enterprise Content Management (ECM) is a systematic approach to capture, manage, store, preserve and deliver information related to business processes. So if it is related to business processes, especially to core business processes, it must be considered key for any organization.