digitization | ecm | intelligent information management
A new year gives us the chance to reflect on all we've accomplished and set our sights on new challenges to conquer. If you haven't embarked on your Digital Transformation journey, this is the perfect time to begin.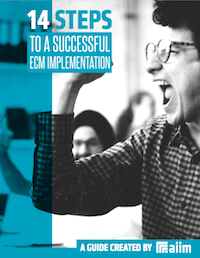 14 Steps to a Successful ECM Implementation
Making an ECM implementation successful requires planning and attention to detail. The best way to create the right solution is to identify organizational goals and priorities. Learn how to manage a successful implementation in our free guide.
digitization | ecm | erm | microsoft | office365 | sharepoint
A study (conducted by Hyperfish, Sharegate, and Nintex) found that 50% of organizations still use manual processes to enforce SharePoint governance. It doesn't have to be this way! New Office 365 capabilities allow you to automate important governance activities and core business processes.
capture | digital transformation, | ecm | intelligent information management | machine learning
When I was a young child, in an era when school papers had to be researched in libraries with card catalogs and shelves upon shelves of books, my father had the bright idea to purchase a complete set of Encyclopedia Britannica. Now, we lived on a tight budget and my mother wasn't too thrilled with this splurge when a perfectly good library was so close to home. Dad wouldn't hear of it! "Our girls need the best education we can offer," so of course, mom relented.
aiim | ecm | intelligent information management
For AIIM, 2017 began with this provocative question: In an Artificial Intelligence world, where deep learning completely shrinks the development time while amping up the computing power, do content management capabilities become irrelevant and obsolete?
cloud content management | content management | ecm | information governance
Here are your Top AIIM White Papers from 2017! The votes are in...and here are the most popular AIIM eBooks and white papers and Tip Sheets from 2017. Enjoy.