employee engagement | hiring | human resources
Remote work is exploding in popularity. Over a few short years, the percentage of remote workers has skyrocketed. Experienced professionals have flocked to remote work because of its promise of flexibility, freedom, and fulfillment. Employers are seeing the benefit of telecommuting as well. Increased productivity and reduced costs being compelling reasons to consider the new-fangled mode of work. Remote project managers can be trickier to hire than other remote professionals, however. Here are 5 essential interview tips for hiring remote project managers for your company:
AI | Artificial Intelligence | automation | employee engagement
Artificial intelligence has the ability to change our lives for the better. Increasingly, businesses are looking to automation to complete tasks in a more cost effective and efficient manner. Unfortunately, automation may lead to job loss. In fact, the finance, manufacturing, and service industries have already cut jobs due to automation.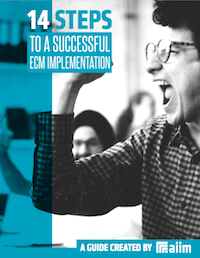 14 Steps to a Successful ECM Implementation
Making an ECM implementation successful requires planning and attention to detail. The best way to create the right solution is to identify organizational goals and priorities. Learn how to manage a successful implementation in our free guide.
employee engagement | information security | security
The threat of a hack is greater than it ever has been before with technology now reaching all parts of the world and granting access to the internet uniformly. The effects of such hacks has been seen in the news lately as well as major corporations like Sony, Yahoo and Equifax experience the terrible consequences of cyber breaches.
Automation will have a global impact like nothing else we have ever seen. This is not to say that it is altogether a new idea. Decades ago, science minded dreamers from around the globe would paint philosophical dreamscapes that relayed a world built on the backs of human ingenuity.
Compliance and records management | archive | electronic records management | employee engagement | engagement | social meda | systems of engagement
Employee Engagement is the Holy Grail "Engagement" is the Holy Grail for every organization, and enterprise collaboration systems are at the heart of efforts to more deeply engage employees. Deloitte notes, "In a digital world with increasing transparency and the growing influence of Millennials, employees expect a productive, engaging, enjoyable work experience."