ecm | enterprise content management | information systems | women in information management
Before engaging in any Enterprise Content Management (ECM) initiative in your organization, it is crucial to have a list of current ECM systems or tools and make the proper gap analysis to define the desired state, having always in mind to deliver the right value proposition to the business.
capture | ecm | enterprise content management
5 Elements of Real-time Capture Why should your organization care about the differences between real-time capture and batch capture? Each has a purpose and benefit to an organization, based on the need, information type, and value it represents in relation to operational outcomes. Many businesses today, are facing increased demands to capture information from unique applications immediately, and address multi-channel capture at the first touch-point of content. They are looking for ways to identify and harness the power of the most effective and efficient capture services to automate the capture process and integrate it with business critical processes and workflows. These developing requirements are defining the discussions around real-time capture.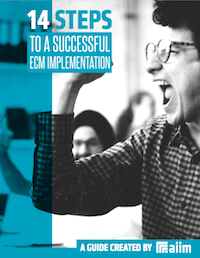 14 Steps to a Successful ECM Implementation
Making an ECM implementation successful requires planning and attention to detail. The best way to create the right solution is to identify organizational goals and priorities. Learn how to manage a successful implementation in our free guide.
capture | ecm | enterprise content management
Open Platforms: Perceptions and Realities What exactly does it mean to have an "open platform"? The perception is that an open platform has no restrictions or limitations; an open platform is agnostic. Yet reality is that there could be some limitations or restrictions. For example, there are ECM solutions that are built upon a proprietary database and are still considered to be "open". The reason being they support a specific set of open standards for interoperability and integration. While the concept is sound, and many businesses look to a day where interoperability and integration across the enterprise is achieved, AIIM research finds that only 8% of organizations have accomplished this.
AI | content analytics | enterprise content management | machine learning
Digital transformation means reworking business processes to take maximum advantage of data and digital content. Better, faster, and cheaper content management is one goal, but the real payoff is in automating routine tasks including customer interactions. More data and process improvement will, in turn, allow us to do more with our content, to reach new audiences and boost satisfaction and profitability, however you measure it. To get there you need AI -- algorithms, models, and measurement -- and you need to trust that what you've built will do the job reliably and correctly.
certified information professional | cip | ecm | electronic records management | enterprise content management | information management | project management
As part of our Certified Information Professional Spotlight series, I chatted with Baba Majekodunmi, Business Analyst for Payment Products & Service at Pentagon Federal Credit Union, for his story on becoming a CIP.