digitization | ecm | erm | microsoft | office365 | sharepoint
A study (conducted by Hyperfish, Sharegate, and Nintex) found that 50% of organizations still use manual processes to enforce SharePoint governance. It doesn't have to be this way! New Office 365 capabilities allow you to automate important governance activities and core business processes.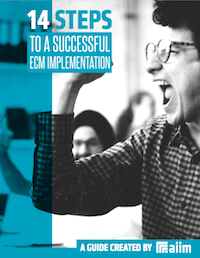 14 Steps to a Successful ECM Implementation
Making an ECM implementation successful requires planning and attention to detail. The best way to create the right solution is to identify organizational goals and priorities. Learn how to manage a successful implementation in our free guide.
digitization | erm | records management
There is nothing that brings a Digital Transformation journey to a halt more than a records management program that's stuck in the past. A modern enterprise needs records management practices that move the business forward, not hold it back.
electronic records management | erm | records management
Every business is in the business of the business. In other words, every organization - public sector or private, small or gigantic, and regardless of structure or geographic location, has a mission and organizational goals and objectives upon which it focuses.
document | ecm | erm | information security
Too often we look at documents as just pieces of paper or digital files that contain information. We often forget to consider the value of that document. Some documents are assigned value based on time to write (like a very large document) or potential fines if done wrong (like a regulatory or compliance document). But every document has some value.
Compliance and records management | certified information professional | cip | ecm | electronic records management | enterprise content management | erm | information management
As part of our Certified Information Professional Spotlight series, I recently sat down with Elizabeth Croom, Assistant Legal Counsel for a state's Administrative Office of the Courts. We chatted about why she chose to get certified and the best ways to prepare for the exam.