CRM | HR | bpm | erp | process management
I've been working on a project over the past few weeks focused on the role that content plays in core business processes, specifically Human Resources (HR), Customer Relationship Management (CRM), and Enterprise Resource Planning (ERP).
CRM | Salesforce | ecm | erp
Every organization wants to increase agility and productivity by extracting maximum value from its processes and content. Organizations need to bridge the silos created by disparate lead applications to seamlessly pull structured and unstructured information together and present the whole story to the customer relationship management (CRM) users who need it. Easy access to documents and content is a key requirement in fully leveraging a CRM system. 95% of CRM users want easy access to the latest version of their files and documents and 55% of CRM customers see "ease of use" as the most important feature.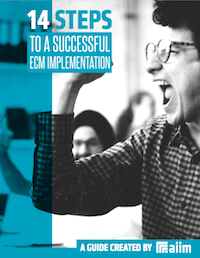 14 Steps to a Successful ECM Implementation
Making an ECM implementation successful requires planning and attention to detail. The best way to create the right solution is to identify organizational goals and priorities. Learn how to manage a successful implementation in our free guide.
HR | content mangement | ecm | erp | human resources
The best way to think about HR process automation is by thinking about it over the lifecycle of an employment relationship and the kinds of documents that are typical in each stage of the life cycle.
ERP systems create silos of content, along with storage issues and workflow dis-continuity. Oh my! In this infographic, we examine the issues that arise from uncoupled or loosely coupled ECM and ERP systems, the potential benefits of closely coupled systems, and recommendations when considering content integration between core business systems. Enjoy!
Industry statistics and research | SAP | aiim | content management | ecm | erp | industry watch | research | statistics
AIIM recently conducted a survey on Connecting ERP and ECM: Measuring the Business Benefits.