Recently, you may have heard the phrase, "I am working remotely." But, what exactly is remote work? Let's start by explaining the term first. A remote worker is someone who works outside the office space. As technology has evolved, it has changed the way people work and created new opportunities to work outside the office walls. Remote working is also referred to as teleworking or telecommuting. A lot of efforts are being put into starting such a culture, but then there is a lot of things that need to be considered. To scale remote work productively, there are a lot of things that are required. From acceptance of the employers to remote desktop software, everything needs to be considered. To solve your doubt, remote desktop software is something that helps a remote worker be in touch with what is going on in the organization that he is working for.
AIIM Conference | IIM x | Information Management | Intelligent Information Management (IIM)
At AIIM, we believe that every organization is on — or should be on — a Digital Transformation journey. How effectively you navigate this journey relies on how adept your organization is at combatting the rising tide of information chaos. This requires new strategies and skills that extend beyond traditional ECM. We call this modern approach Intelligent Information Management. The purpose of this journey, the reason for Digital Transformation, is a drive to understand, anticipate, and redefine internal and external customer experiences.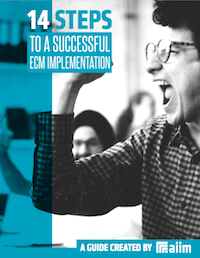 14 Steps to a Successful ECM Implementation
Making an ECM implementation successful requires planning and attention to detail. The best way to create the right solution is to identify organizational goals and priorities. Learn how to manage a successful implementation in our free guide.
CRM | Enterprise Content Management (ECM) | Enterprise Resource Planning (ERP) | IIM x
Every organization wants to increase agility and productivity by extracting maximum value from its processes and content. Organizations need to bridge the silos created by disparate lead applications to seamlessly pull structured and unstructured information together and present the whole story to the customer relationship management (CRM) users who need it. Easy access to documents and content is a key requirement in fully leveraging a CRM system. 95% of CRM users want easy access to the latest version of their files and documents and 55% of CRM customers see "ease of use" as the most important feature.
Content Management | Enterprise Content Management (ECM) | Enterprise Resource Planning (ERP) | IIM x
The best way to think about HR process automation is by thinking about it over the lifecycle of an employment relationship and the kinds of documents that are typical in each stage of the life cycle.
Content Management | Enterprise Content Management (ECM) | IIM x
Every day represents a new set of people-process-technology challenges for HR professionals. From the time a prospective employee first comes into contact with an organization to the time they leave or retire, HR professionals must deal with myriad of documents and processes that span the entire lifecycle of an employment relationship.
Interviewing full stack developers can be a difficult job. As an interviewer, you'll need to assess personality, technical proficiency, and work ethic all at once. While you may have rounds of interviews to accomplish this, it's best to establish as much as you can within the first interview. How do you accomplish this for a technical interview? How do you interview full stack developers effectively? There are plenty of ways to conduct an interview successfully, so there's not one single format that's guaranteed to work or fail one hundred percent of the time. However, there are some tips and tricks you can employ to ensure your full stack developer interview goes as smoothly as possible.