industry watch | research | statistics
I am interested in forming a dedicated group of knowledgeable end users to provide insight on key trends in Intelligent Information Management. The intention is to systematically identify:
Industry statistics and research | aiim | content | ecm | enterprise content management | industry watch
What's the status of Information Management in your organization? Check out our new State of the Industry findings. Managing and recording what the organization knows, what has been said, what inputs are received, what decisions and commitments have been made, and what results are achieved, is paramount to improvement and success. Failure to manage this information, and make it available for sharing, search, controlled access, defined process, audit and secure archive limits operational capability, stunts new initiatives and exposes the business to potential liabilities. In this [free] executive summary, we've compiled our key findings, including: How different ECM system strategies match the overall goals of the information management lifecycle. The governance and adoption issues that users face. The impact of extending access to mobile and the new cloud services. AIIM's new Industry Watch report -- 6 key findings: The number of large organizations citing compliance and risk as the largest driver for IM has risen sharply in the past year from 38% to 59%. 44% of mid-sized organizations also cite this as the biggest driver whereas smaller organizations consider cost savings and productivity improvements to be more significant drivers. 17% of responding organizations have completed an enterprise-wide ECM capability, including 4% on a global scale. 23% are rolling out company-wide, and a further 15% are integrating across departments. 6% are looking to replace existing system(s) with a new one. Only 18% align their IM/ECM system strategies with agreed IG policies. 15% have IG policies but they do not drive decisions. 29% have no IG policies. 39% describe their email management as "chaotic", including the largest organizations. 55% agree that email is their big untagged, ungoverned, high-risk content type. Only 10% selectively archive emails to ECM, RM or SharePoint. 22% consider their ECM project to be somewhat stalled, and 21% have user adoption issues. 52% admit that they are still dependent on their network file-shares. 38% are actively focused on extending their ECM functionality and 25% are rolling out to a wider user-base. 30% are improving collaboration and 21% are working on mobile and remote access. Get it while it's hot!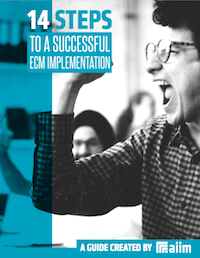 14 Steps to a Successful ECM Implementation
Making an ECM implementation successful requires planning and attention to detail. The best way to create the right solution is to identify organizational goals and priorities. Learn how to manage a successful implementation in our free guide.
Industry statistics and research | ecm | industry watch
In AIIM's new survey, "ECM Decisions: strategic options for managing, accessing and preserving content," we look at how organizations are optimizing their content management systems some 15 years since the term "ECM" was first introduced. What's your ECM strategy? Preliminary findings are pretty sobering: 46% have no access to their ECM systems from mobile devices 22% have no business-wide mobile policy. ECM is now a core platform for so many business functions, yet most organizations have more than one system, and they aren't connected. Some of those systems support capture, or BPM, or mobile access, or cloud, or social -- or all, or none. How about you? We have been surveying user issues in ECM for 10 years, and would love to have your input to this year's survey. We think that it will help focus your own strategic content management decisions. At the end of the survey, you can opt in to a prize drawing for an Apple iPad-Air or a Microsoft Surface 2 (RT). The survey should take approximately 10 minutes to complete (and you can skip questions if you wish). Your response is completely anonymous and your details will not be passed on to any third parties. ----- You might also be interested in this recent post -- Wanted: Practical Document Management Advice for Small Companies
aiim15 | industry watch | sharepoint
In my post SharePoint Lover? Partner? Skeptic? - 20 Data Points You Need to Know I took a look at some of the highlights of our just announced SharePoint Industry Watch. The core conclusion of the research was this: SharePoint is still being adopted -- but rather chaotically, with mixed results, and with a lot of confusion re Office365 and the cloud. In the post, I encouraged readers to respond to this question: If I had 30 seconds with Satya Nadella (Microsoft CEO), what would I tell him about the future of SharePoint? So here are a few of the answers...Thanks for the input... Don't add more features. Focus instead on making it smart, simple, secure, and sexy. And don't forget Mac users. There will be a REALLY long on-premise tail to SharePoint no matter how fast people would like to go to the cloud, and thus hybrid information governance -- not an easy task -- will be with us for many years. Don't forget your customers who don't want to move to the cloud. Will we still be your customers in 2 years? In 5 years? I know SharePoint wants us all in the cloud ASAP, but moving to the cloud isn't the answer to everything for everyone. I'd love to see more focus on the hybrid customers. It seems (from recent posts and dropped hints) that there is a renewed level of interest and commitment from Microsoft to hybrid scenarios, which is good to know. Hybrid or blended solutions will have to be the new normal for most customers for the next 2 to 6 (or more!) years as the feature sets evolve, get retired, or are matured on each of the platform levels. Counting on that commitment will be critical for customers, but it needs to be accompanied by clear and articulated visions and guidelines so that customers can deploy the right solutions in the right ways on the right platforms. Some capabilities are clearly strong in the cloud (i.e., video content), while other features seem to be unavailable or disappearing as cloud options (i.e., branded UI, custom code, public sites, etc.). As cloud features are dropped, please have in place viable alternatives (perhaps through partners?) and guidelines on how to transition. Also, tightly integrated/blended/hybrid solutions will be required until valid and reliable 3rd party add-ons can run as completely in the cloud as they currently do on-premises. Most fall well short currently, so the on-premises parts of the overall SharePoint solution for many customers will have to continue to be supported for quite some time. Organizations that have embraced a true, robust Enterprise Content Management (ECM)/Business Process Management (BPM) strategy understand that there is not a single, magic solution. Many of these successful organizations leverage the strengths of SharePoint's content repository and federated search within an infrastructure that includes complimentary software that is best in class for workflow, RM, case management, etc. It would be great if Microsoft focused on making SharePoint spectacular at its strengths and stop trying to rebuild the wheel in the areas that are not strengths. I've seen too many cases where SharePoint was sold as the end-all and be-all for ECM, and the IT staff spent too much time and money building bespoke systems that could have been point-and-click configured with off-the shelf software. From the report you can see one of the major issues is user adoption and training. I've heard this for years. Not to pitch a solution but more of a interesting concept, these guys at Content Panda have built a pretty robust plug-in for SharePoint that enhances the built in help to offer tutorials from around the web. I can only see training concepts like this helping with user adoption. Make it easy to integrate Sharepoint with any other enterprise systems, and don't try to make it into a solution that can solve all enterprise needs, focus on its core capabilities. When it comes to the cloud, make sure that all security concerns are addressed and understood. SharePoint is great if you need flexibility and little structure (e.g., collaboration). But a lot of companies have complex requirements related to case/claim management, workflow, RM where other solutions provide standard functionalities. Combining the strength of various solutions increases the user acceptance but also increases the complexity for managing these solutions for IT. Making this bit easier would be nice. This means among other things good monitoring, upgrade processes, professional transport systems from development systems to Quality and Productive Systems, and audit trails. Remember your customers and what they actually need. Get out and see how people are actually using your technologies then use that insight as you develop the next generation of products. Good stuff! Post additional comments and join the conversation. Here's the link to download the (free) survey results if you need it. ----- Lots of SharePoint and non-SharePoint content at AIIM15, with a focus on the challenges of Digital Transformation. Check out the agenda...
aiim | big data | bigdata | content | content management | doug miles | ecm | industry watch | mancini
We've been fortunate to be part of some good press pieces in the past few weeks, and I thought I would share a few of them...(If you can, please socialize some of them...)