content management | infochaos | information chaos
For many years, I've watched people in organizations that I KNOW could benefit from content technologies politely listen to sales presentations, nod their heads and then back away from a decision. I find this "reluctance to commit" mysterious, because most of the people that I've spoken with who have automated a previously paper-driven process swear by the results and wouldn't return to life pre-content management for anything. I'm convinced that this "reluctance to commit" is due to the fact that many on the sell-side of our industry (including AIIM at times, I'll confess!) can't resist talking about technology. ECM! BPM! Taxonomies! Metadata! Capture! So let's forget about this "content management thing" for a moment and think about how bad, manual, and paper-clogged processes impact a few real people. I've put together a short tip sheet on the 5 Faces of Information Chaos. It's just designed to spark some conversations among people who have never considered the potential impact of content technologies -- feel free to use however helpful. ----- In the Toronto, NY or DC metro areas? We've got a process improvement seminar coming up in your neighborhood! They're FREE. Washington DC event -- October 4 at the National Press Club New York event-- October 6 at the Manhattan Penthouse Toronto event -- October 13 at the Allstream Centre ----- You might also be interested in... Brexit, Presidential Campaign Follies, the Olympics and Disruption Déjà vu
aiim16 | disruption | infochaos | information chaos
How do you disrupt a disrupter? SlantNews and the Huffington Post. It's kind of a cool story. Companies and organizations in every field face disruption from new entrants — competitors without the burden of legacy systems, who can move quickly and with agility, and can use new tools and public infrastructures to get to scale quickly. Technology is moving so quickly that a new generation of disruptors are emerging to rival the original disruptors. SlantNews used agile approaches to go from original idea to scale in less than six months, and in the process establish an innovative media value proposition for Millennials — and an alternative to the Huffington Post. Company founder Amanda Gutterman will be one the speakers at AIIM16; you might want to check our her session. Here are 8 articles I've written for SlantNews. Take a look; they're a bit more personal than my usual content management pontifications. 4 Reasons Someone Named Mancini Celebrates St. Patrick's Day Why Harper Lee's Legacy Is All About Context 5 Major Developments Affecting Your Personal Privacy How I Learned To Stop Worrying And Love Snowmaggedon These Three Easy Tips Will Help You Live A Paper-Free Life In 2016 Americans Must Choose Compassion Over Cynicism Don't Fall For The Lies About Islam After Terror Attacks How Artificial Intelligence Can Help You Sort Your Holiday Photos BTW, I've got a new e-book - free - check it out - Digital Transformation in Action. What? You haven't made your plans for AIIM16? Do it today!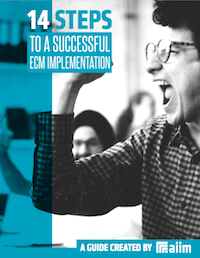 14 Steps to a Successful ECM Implementation
Making an ECM implementation successful requires planning and attention to detail. The best way to create the right solution is to identify organizational goals and priorities. Learn how to manage a successful implementation in our free guide.
aiim16 | content analytics | infochaos | information chaos
I have it on good authority (my own) that there is a new Facebook button. The following have been deemed insufficient: Introducing the Content Management Confusion button: Not sure about how to deal with Content Chaos? Under pressure to deliver solutions faster and faster? Can't figure out how to protect your information assets no matter where they exist? Struggling to figure out what all that dark data means? Come to AIIM16 and join 650 other fellow travellers. April 26-28. New Orleans. And now THE MOST IMPORTANT PART OF THIS POST! Be creative, take a stab at your own content chaos/digital disruption/digital transformation Facebook button. Send them to me at johnmancini aiim.org and I'll publish them. ----- You might be interested in this! Worried About Becoming the Next #Blockbuster? - 10 More Rules to Deal with Digital Disruption
5 Great Reads to Challenge Your Assumptions Here are 5 great books to help create a framework to understand the disruptive times that are ahead. As consumerization, mobile and cloud, and the Internet of Things sweep through our organizations over the next few years, some organizations will be prepared, agile, and thrive, and others will be left in the dust by competitors they never event imagined. The authors of these books will all also be speaking at AIIM15. Here's the official #AIIM15 must-read list: The Engaged Leader: A Strategy for Your Digital Transformation by Charlene Li Technology has revolutionized the very idea and nature of relationships between leaders and their followers. The Engaged Leader is meant as a guide for business leaders needing to adapt to the demands, and opportunities of digital leadership. The Engaged Leader addresses why leaders need to master a new way of developing relationships, which begins by stepping out of traditional hierarchies; how to listen at scale, share to shape, and engage to transform; the art of making this transformative mind shift; and the science of applying the right tools to meet your strategic goals. About the Author Charlene Li is CEO and Principal Analyst at Altimeter Group, and author of The New York Times bestseller Open Leadership and coauthor of the critically acclaimed, bestselling book Groundswell. She is one of the foremost experts on social media, and a consultant and independent thought leader on leadership, strategy, social technologies, interactive media, and marketing. Formerly, Charlene was vice president and principal analyst at Forrester Research. See Charlene's keynote address at AIIM15. The Gen Z Effect: The Six Forces Shaping the Future of Business by Thomas Koulopoulos and Dan Keldsen One of the most profound changes in business and society is the emergence of the post-Millennial generation, Gen Z. While every new generation has faced its share of disruption in technology, economics, politics and society, no other generation in the history of mankind has had the ability to connect every human being on the planet to each other and in the process to provide the opportunity for each person to be fully educated, socially and economically engaged. In The Gen Z Effect, the Tom and Dan explore what this might mean for business, markets, and educational institutions in the future. About the Author Tom Koulopoulos is the author of nine books and founder of Delphi Group, a 20-year-old Boston-based think tank, which was named one of the fastest growing private companies in the US by Inc. Magazine. Named one of the industry's most influential consultants by InformationWeek magazine, his articles and market insights appear frequently in national and international print and broadcast media such as BusinessWeek, the Wall Street Journal, Forbes, The Economist, CNBC, CNN and NPR. Geoff James of CBS Interactive Media called Tom "one of the truly deep thinkers in the arena of technology and culture." See Tom's keynote address at AIIM15. Fierce Loyalty: Unlocking the DNA of Wildly Successful Communities by Sarah Robinson Fierce Loyalty is a practical guide with actionable tips for understanding, building and fostering a fiercely loyal community of clients, customers and raving fans. Doing so is critical for success in today's turbulent marketplace. Sarah lays out a clear model that any organization of any size can follow. She helps you break down the process and gives you clear, specific steps for creating and maintaining a fiercely loyal, wildly successful community and put it squarely in the center of your business plan. About the Author Sarah Robinson is a business strategist advising international clients on how to build thriving, successful communities and set their companies apart from the pack. She is a regular guest expert at MSNBC and is ranked by both Forbes and Dun and Bradstreet as a top Twitter expert on entrepreneurship and small business. Sarah has also been a featured business expert at Inc.com, Entrepreneur.com, AOL.com, The DEX Entrepreneur's Summit, LOHAS, Social Media Marketing World and The National Press Club. See Sarah speak at AIIM15. Data Crush by Chris Surdak The Internet used to be a tool for telling your customers about your business. Now its real value lies in what it tells you about them. Every move your customers make online can be tracked, catalogued, and analyzed to better understand their preferences and predict their future behavior. And with mobile technology like smartphones, customers are online almost every second of every day. The companies that succeed going forward will be those that learn to leverage this torrent of information-without being drowned by it. Data Crush examines the forces behind the explosive growth in data and reveals how the most innovative companies are responding to this challenge. [I wrote the forward to this one!] About the Author Christopher Surdak is an information technology expert with over 20 years of experience. He has held roles with companies such as HP, Accenture, Siemens and Citibank. He began his career with Lockheed Martin as a rocket scientist. See Chris speak at AIIM15. Managing Chaos: Digital Governance by Design by Lisa Welchman Few organizations realize a return on their digital investment. They re distracted by political infighting and technology-first solutions. To reach the next level, organizations must realign their assets people, content, and technology by practicing the discipline of digital governance. Managing Chaos inspires new and necessary conversations about digital governance and its transformative power to support creativity, real collaboration, digital quality, and online growth. About the Author Lisa Welchman is a leading authority on digital governance. Her core strength is helping to resolve differences of opinion among digital stakeholders and maturing digital operations. She works closely with organizations to understand why there are challenges around managing the organization's digital presence and then works collaboratively with her clients to create solutions to resolve those challenges. See Lisa speak at AIIM15.
Moving Beyond the Call Center from Hell There is a critical need to rethink how we engage with customers. Most organizations have a thin veneer of social engagement -- a twitter account, or a Facebook site, or a mobile app. The challenge moving forward is that most of these systems are basically a veneer, unconnected with core back-end business processes. Everyone has experienced the Call Center from hell, where you wait in a long queue for a real person, only to have to constantly restate information to all of the various people with whom you speak. Organizations have long had a challenge with building a 360-degree view of the customer. In an era of radical transformation, this problem is getting more pronounced -- except now, the customer has social power to immediately tell the world when they've had a bad experience with your business. Some call getting your arms around this Case Management (often those with a document perspective, some call it Customer Experience Management (often those with a WCM perspective), but at the core of both is aligning people with processes and information. (See my earlier 2015 prediction post, 2015 Prediction No. 6 -- Case Management Lights Up (Or A Rose By Any Other Name?) Think about these data points: 1 -- 54% of organizations are finding the rapid convergence of collaboration and social tools to be very confusing. 2 -- 65% of organizations as say that their employees struggle to access internal information from mobile devices. 3 -- 50% of organizations believe that they have shortfalls in technical support for internal collaboration. 4 -- 42% of organizations struggle with rationalizing the many ways customers engage with them and connecting these inputs to key business systems. Your back-end business processes are now exposed, warts and all. Get serious about customer experience management at AIIM15. Check out our e-book with predictions from Brian Solis, Tom Koulopoulos, Chris Surdak, and others: Check out -- 23 Things I Wish I Knew BEFORE My First ECM/Content Management Project.
erm | infochaos | information governance | records management
3 Reasons You Need to Get Serious About Information Governance and Information Risk Why does simply accumulating too much information generate RISK for your organization? 1 -- Expanding Legal Requirements -- In 2006, the Federal Rules of Civil Procedure were changed to make it clear that in legal proceedings and during discovery, electronic information needed to be managed with the same kind of discipline as paper-based information. This includes formal records like contracts as well as informal communications like emails and instant messages. These requirements have gotten more aggressive since then. Image source: https://www.flickr.com/photos/paulcross/ 2 -- Expanding and Often Conflicting Compliance Requirements -- In addition, most companies also face industry specific laws and compliance requirements tied to how they manage information. These kinds of unique rules exist for just about every industry. These rules also vary by country, adding to the complexity for any organization that operates at scale. 3 -- Expanding Information Security Challenges -- The list of front-page security breaches and information management disasters gets longer by the day -- think about the IRS email scandal and Target, Home Depot and Sony hacks, to name a few. These problems are not just embarrassing; they directly impact credibility, trust, and value. ----- Hundreds of organizations will be comparing experiences on how they address these challenges at AIIM15. Join us and benchmark your information risk and build a strategy to address it. He's a preview ebook (for everyone, not just if you're coming, although I wish you would) -- check it out... You might also be interested in... How do we focus the C-Suite on ECM -- Or do WE have to change OUR tune?