AI | cloud | content services | data | information management | intelligent information management
In today's world, where the consumer is king, excellent customer experience is imperative for the success of your business. To achieve this, your data cannot be fragmented, redundant, obsolete, or inaccessible. Most organizations are currently dealing with more information than they can handle. This can be expensive as resources on storing, protecting, and securing information are costly. It's important to understand what data you have, why you have it, and why you need it - it's then that your data can be leveraged as an asset. [FREE Webinar: Learn more from this Case Study on Leveraging Data to Transform Customer Experience]
content management | digital disruption | ecm | information management | modernization
The combination of cloud technologies plus mobile is a volatile one when it comes to the sustainability of existing organizations. We've never before been in a disruptive environment quite like this one, and it demands much more agile approaches to IT. Established incumbents are being challenged on every front. Consider the following: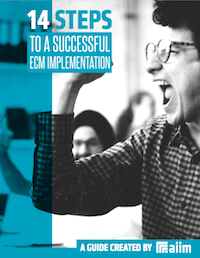 14 Steps to a Successful ECM Implementation
Making an ECM implementation successful requires planning and attention to detail. The best way to create the right solution is to identify organizational goals and priorities. Learn how to manage a successful implementation in our free guide.
information governance | information management | intelligent information management | records management
Over 100 eBooks, Guest articles, and Tip Sheets from the past year or so -- 107 of them to be exact. Enjoy.
governance | information management | office365 | sharepoint
It's hard to overestimate the impact of SharePoint on the information management market. Since its humble beginnings in 2001, it has grown to nearly 200 million seats and is found in every industry sector. If you're reading this blog post, you likely have SharePoint in your organization. But SharePoint can't magically make your information more accessible. There is no SharePoint fairy that assesses all your information, uploads just the valuable stuff to SharePoint, applies appropriate access controls, and fills in the metadata. In fact, most organizations with SharePoint aren't particularly satisfied with it - through no fault of SharePoint or its capabilities. Rather, there are two main issues.
content | content management | ecm | information management
Here are the top 10 Digital Landfill blog posts for September (by views). Check them out!
certified information professional | cip | ecm | electronic records management | enterprise content management | information management | project management
As part of our Certified Information Professional Spotlight series, I chatted with Baba Majekodunmi, Business Analyst for Payment Products & Service at Pentagon Federal Credit Union, for his story on becoming a CIP.