big data | data | digital transformation, | information professional
In 1989, I took my first decision sciences course, and started coding in SAS at the age of 20. I greatly enjoyed pulling discoveries buried within mounds of data, although and even small datasets had many discoveries back then. At the root of every model I've built, even the simplest, was a solid understanding and foundational rigor of statistical theory. When computing simple statistics or developing descriptive models, I thought through the math behind the model and how this would impact the formation, application, and interpretation. It was about 30 years ago when I started my decision sciences journey, and I'm still applying techniques and building models to empirically solve problems, answer questions, overcome challenges that improve, reduce error, or otherwise benefit a situation. Over the past three decades, I've noticed trends and shifts, an evolution of sorts, in the foundational underpinnings of development and application within this interesting profession. I've come to the following conclusions that illustrate the evolution of the data science function over the past few decades:
cip | content management | data | ecm | healthcare | information professional | medical records | records management
Unfortunately, I've had a few recent encounters with our healthcare system. As you would expect, I paid attention to the recordkeeping process. The spectrum ranged from paper to born-digital and has me thinking about my health records in a new way. If you're interested in the backstory, you can read it on my personal blog. Suffice it to say, last Friday, I needed to establish an account with a local hospital's online health portal. My expectations were low. Healthcare professionals have always impressed me with their medical knowledge and talent, not so much with the way they embrace technology. In general, I was pleasantly surprised. I wasn't surprised that the results from test taken at 2:00 AM were not available at 1:00 PM. I was surprised that the results from an MRI I had in May, from a radiology clinic affiliated with this hospital, were available. I found it reassuring to know that I was being given access to same record that my providers use. I wondered what else is in there. For example, I can see the MRI report, but can my ENT see the images of my brain? I had the thought that I want to consume all my healthcare through this network – being able to access these records has marketing value. Today, this technology serves the providers and is extended to me. The fact that I like having access to this information means I have to add a non-medical attribute to my healthcare decision making process, or I have more work to do. I have the option to add other caregivers to the system. I like the fact that I can grant them that permission, but I worry that they will have their own systems that they will want me to use. I worry that we'll end up with medical Kayck/Trivago-like middle men linking various healthcare systems. I worry that that will inevitably expose my health records to more companies. You see the problem? This is information about me but it's not my information. This realization made me think of the AIIM ELC meeting I attended in June where Robert Kahn, a man who was instrumental in the development of the Internet, spoke about Distributed Digital-Object Services. He described what may be the end game for Intelligent Information Management – when information belongs to the person, process or device that collects it or whose condition it represents. What if my medical information existed as a distributed object that had its own storage, knew who I was, who my medical providers were, who my health insurance company was, and what if these entities could access and update that record as necessary, and as permitted by me? I can almost hear the gears turning in some of your heads – How would this work? How would it be secured? This would make a lot of today's technology obsolete – I worked with distributed objects in the late 1990s. This can work. Robert Kahn, a man who once said during an interview that: "…the development of the Internet was a learning experience..." says it will happen. As we explored the future of Information Management at that ELC meeting, we discussed the ways cybersecurity, regulations and emerging and disruptive technologies like blockchain, AI and machine learning, will all play roles in that future. The summary paper will be available soon, and since it will include the experience from the European ELC, I can't wait to see it. About today's guest poster - Dan Antion is the Chairman of the AIIM Board of Directors. He has spent almost 40 years developing information management systems, in a wide variety of industries. For the past 30 years, he has been Vice President, Information Services for American Nuclear Insurers, where he is responsible for data, content, and systems development across a broad range of platforms. His opinions do not represent American Nuclear Insurers, AIIM or the AIIM Board of Directors. You might also be interested in... Are you ready to take the Certified Information Professional (#CIP) exam? Canon Norway Standardizes on CIP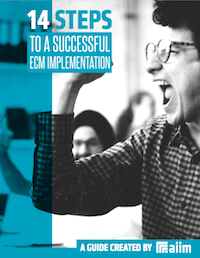 14 Steps to a Successful ECM Implementation
Making an ECM implementation successful requires planning and attention to detail. The best way to create the right solution is to identify organizational goals and priorities. Learn how to manage a successful implementation in our free guide.
cip | content management | ecm | information professional
I'm way too old for this! Seriously, do you know how long it's been since I've taken a major exam?! Besides, I'm not a good test taker! These were just some of the excuses that were preventing me from taking the CIP exam.
cip | content management | data | ecm | information professional
"Content is data in context." Don't quote me on that. I didn't say it. I don't know who said it. To be accurate, I should say that I don't know who said it first. Lately, whenever I hear that statement, it's in the form of "They say, content is data in context." "They." I suppose they are the people who are good with content. My forty years of experience tell me that there aren't many of them. I think I know why. It's the 'context' thing. "A train leaves Washington, D.C. at 8:10 am, traveling to New Haven at 88 miles per hour..." The dreaded word problem – that's data in context. The people who are good with content, want to tag that as: 'travel' 'railroads' 'train' 'Washington' 'New Haven' and probably 'America' and perhaps 'Vermonter' and '56.' The people who aren't good with content, simply want to know when the train will arrive in New Haven. They don't like word problems. They've never liked word problems and they were never good at separating the data from the relevant context – 'relevant' because Mr. Gadzooks, the Algebra teacher always included superfluous context to throw us off. You know, "John was boarding the train with two suitcases…" – and, let's face it, in the real world, we just want the data and we don't want to work for it. The real world replaced the context of that statement with a timetable. Find your train. Look for Washington to see the departure time and then look for New Haven for the arrival time. Easy-peasy. Just like every spreadsheet in every organization. But, that was yesterday. Today, we have an app for that. Well, AMTRAK has an app, but so does the Metro North – which train are we on? Do we have that app? Is it up-to-date? Do we know how to use it? It doesn't matter. Apps are almost yesterday. Tomorrow, for many of us, today, we just ask Siri or Alexa or that Google girl "what time does the train get to New Haven?" But wait, that wouldn't work. Siri, Alexa and, what's the Google person's name? Oh, right, she doesn't have one. That doesn't matter either; they can't answer that question. They need more information. They need the date. They need to know that you're traveling on AMTRAK and they actually need to know that your leaving from Washington, D.C. They need enough data to put you in context – to put you on the Vermonter, AMTRAK Train 56. Sure, they might be able to use your location and determine that you're in Washington, but they still need to know when you want to travel, because the Vermonter is one of several trains traveling between those two cities, each day. They need enough information to put you in context so they can extract the relevant data from a database. Alexa, Siri, the Google woman, and every other information system we use won't always need as much information from you in the future, but only if we do our jobs well. As Information Professionals, a.k.a. content people, we need to realize the new ways the information we collect, curate and store is being used. We need to create/support easy, consistent and reliable ways to extract data from the information while continuing to meet the traditional information management requirements that have shaped our industry. The role of information is becoming more important. The demands on information systems are becoming more critical. The expectations of relevance, accuracy and availability of information are growing. We need to make sure information can meet the challenge. You might also be interested in... Are you ready to take the Certified Information Professional (#CIP) exam? Canon Norway Standardizes on CIP About today's guest poster - Dan Antion is the Chairman of the AIIM Board of Directors. He has spent almost 40 years developing information management systems, in a wide variety of industries. For the past 30 years, he has been Vice President, Information Services for American Nuclear Insurers, where he is responsible for data, content, and systems development across a broad range of platforms. His opinions do not represent American Nuclear Insurers, AIIM or the AIIM Board of Directors.
certified information professional | cip | information professional | information professionals
Last month, I put together the following posts containing my thoughts about the future of Information Professionals. The first installment was called -- From Jurassic Park to Digital Transformation -- a Tale of Information Professionals. Part Two was called -- A Short History of Where Information Professionals Came From. Part Three was Disruptive Technologies Create Need for Information Professionals. The last post follows in a moment after two updates... Since I originally published these posts, 2 updates: 1 -- We've published a white paper on the Future of Information Professionals. It's free. Download it. Send the link to your friends and colleagues. Give it to your kids to show them what you do and why it's important! Defining the Information Professional of the Future. 2 -- We've launched the brand spanking new CIP (Certified Information Professional) Copies of the new study guide are FREE to AIIM Professional members and $69 to everyone else. CIP Study guide is HERE. Defining the Information Professional of the Future I concluded my previous post with this thought: In the mainstream, the focus is still on on-premise applications built on and for the PC. The core skills that are valued in the mainstream are focused on building and developing systems. At the edge, the focus shifts to the cloud, mobile technologies become the Lego building blocks of systems, and the skill sets that are valued within our IT staffs shift from building and developing to configuring and connecting. More to come in the next post. ----- So continuing.... So let's return to our PEOPLE -- PROCESS -- TECHNOLOGY triad and think about how the world has changed -- and will continue to change. On the PROCESS side, a revolutionary thing has happened. Process owners can now implement their OWN solutions. This creates incredible pressure to take monolithic business processes and turn them into applications. On top of this, the world is rapidly shifting to one in which most interactions will be on mobile devices. This means all processes must be reformulated from a mobile perspective. This has interesting implications when we think about the world of TECHNOLOGY. As mentioned earlier, configuring, connecting, and mobile skills are now critical and in short supply. We need to rethink the entire notion of security. Security that was once defined purely in terms of what was inside and outside the firewall now needs to be reconstructed around individual information assets. And organizations are experiencing a massive Legacy drain on their ability to innovate. Perhaps the most extreme change has been on the PEOPLE side of the equation. We have moved into a world in which usability is EVERYTHING. Even individual users can implement their own enterprise-like solutions, and if we try to get in their way they will do it anyway. There has been an enormous blurring of the lines between what is the home and what is the office. There is no way to put this genie back in the bottle, and organizations must understand that Millennials operate in a fundamentally different fashion than the email generation. The implications of this relative to how we manage information are profound. The kinds of questions that are being asked in our organizations vary greatly depending on whether you view the world from a PROCESS perspective, a TECHNOLOGY perspective, or a PEOPLE perspective. And in an era in which enterprise-like capabilities are increasingly available without IT intervention, the short-term pressure for each of these people to actually communicate and cooperate with each other is decreasing. Each of these players in the information management story has a different role to play in the organization, and in some ways they are all versions of information professionals. However their needs and requirements are vastly different. End users need education on responsible computing practices and need to understand how their organization wishes to place boundaries on their use of information. Now that process automation solutions are available to a much wider range of companies than ever before through SaaS solutions, line of business executives must be educated to better understand what is possible. And technology specialists must keep up with a wide range of content and information management solutions, understand the relative strengths and weaknesses of each, and try to forecast the survivability of individual companies into the future. But this still leaves the fundamental question of the role of the Information Professional in all of this. Someone needs to own the big picture. Someone needs to provide adult supervision to the process people, technology people, and end users that interact with content and information management systems. Someone needs to help the organization think through what it means to manage information as a critical business asset. Someone needs to act as the translator of the unique language of each of the people who interact with our information systems, whether they are from a PEOPLE perspective a PROCESS perspective or a TECHNOLOGY perspective. We believe that that person is an Information Professional, and the CIP (Certified Information Professional) is his/her badge. Free e-book -- What is the new Role of an Information Professional? ----- A bit more from my keynote at #AIIM16 on the Future of Information Professionals. #AIIM16 keynote -- Why the H**** Should You Care About Information Professionals? from John Mancini
aiim | certified information professional | cip | information professional | mcafee | oracle | skills
Technology has always been fast-moving, but it seems that there is a "perfect storm" of change right now. Cloud, mobile, social and big data are forces that create dramatic opportunities for improved business process, better employee collaboration and closer customer engagement. Meanwhile, content overload, security, litigation and compliance create huge potential risks for most organizations.