digital transformation, | intelligent capture | intelligent information management
For many years, "capture" was somewhat of an afterthought. ...It was something focused primarily on paper documents. ...It was something focused on archiving the document rather than on the extraction of data from the document. ...It was something you did at some point after information entered the organization. ...It was usually done in the context of one particular business process and needed to be customized to that process.
digital transformation, | digitization | intelligent capture | parascript
Digital transformation can mean different things to different organizations. For some, it might mean simply getting rid of paper. But in these competitive times organizations need to look further.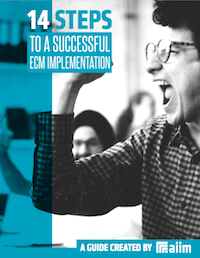 14 Steps to a Successful ECM Implementation
Making an ECM implementation successful requires planning and attention to detail. The best way to create the right solution is to identify organizational goals and priorities. Learn how to manage a successful implementation in our free guide.
digital transformation, | information capture | intelligent capture | parascript
In a recent AIIM Industry Watch survey -- State of Intelligent Information Management: Getting Ahead of the Digital Transformation Curve -- I asked this question -- "Agree or Disagree: Digitizing and standardizing business inputs is one of the key bottlenecks for Digital Transformation." The results are clear: Information chaos needs to be tackled at its origins.
information capture | information security | intelligent capture
Scanning and information capture lead a curious double life. On one hand, it seems like we've been doing scanning and capture forever, at least within larger companies. Scanning and capture are stable, mature technologies with a well-documented ROI. On the other hand, they are still somewhat new when it comes to adoption by many smaller and mid sized organizations.
business intelligence | capture | intelligent capture | paperfree office | paperless
Oh that joke is as old as you can imagine, and I have heard a lot of them. And I have heard "offices will be paper free when (you fill in the blank)". In fact, I was once one of those people and to an extent still am because it is still true.