Compliance and records management | big data | governance | intelligent information management | security
The amount of data stored on electronic systems today is exploding and growing at an exponential rate. Data breaches, privacy concerns, and growing e-discovery costs continue to evolve how organizations approach controlling their business data while balancing worker productivity. Aged or poor data hygiene can further increase organizational inefficiencies, in aggregate costing billions annually.
automation | digital processes | document management | human resources | intelligent information management
Are your Human Resources processes intelligent? Before you try and answer that, let me explain more about what I mean.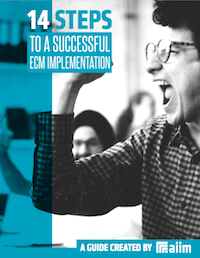 14 Steps to a Successful ECM Implementation
Making an ECM implementation successful requires planning and attention to detail. The best way to create the right solution is to identify organizational goals and priorities. Learn how to manage a successful implementation in our free guide.
digitization | ecm | intelligent information management
A new year gives us the chance to reflect on all we've accomplished and set our sights on new challenges to conquer. If you haven't embarked on your Digital Transformation journey, this is the perfect time to begin.
intelligent information management | podcast
Intelligent Information Management (IIM)...It sounds great, but what the heck do those 3 words really mean? Here at AIIM, you've probably heard us use IIM to describe the core set of capabilities that are necessary for organizations to digitally transform. In fact, we believe so whole-heartedly that it's the future of Information Management that we actually changed our name to the Association of Intelligent Information Management and even wrote the book on it. But, what does IIM mean from a user's perspective? What's changing in the industry that's driving IIM? That's what host Kevin Craine aimed to find out on this episode of AIIM on Air. Follow along as Kevin speaks with new AIIM member and Solution Manager at Consolis Sten Söderberg about the evolution of IIM and the upcoming challenges. With over 30 years in the industry, Sten offers a user's view of where the industry has come and where it's headed. Then, Kevin chats with Craig Hatfield, Lead Developer - OnBase / ECM at Sherwin-Williams Paints about his real world experience implementing systems and workflow that bring about more intelligent information management.
gdpr | information security | intelligent information management | podcast | privacy
It's hard to believe it has been just about 3 months since the General Data Protection Regulation (GDPR) went into effect on May 25th, 2018. This new regulation was designed to strengthen and unify data protection for individuals within the European Union (EU) and came with a strict set of compliance protocols. And, because GDPR also applies to the export of personal data outside the EU, it's applicable to any entity that uses or exchanges this data - so, there are a lot of us all around the world feeling the pressure of GDPR. To help organizations prepare, there's no shortage of valuable GDPR resources available all over the internet. But, what about advice from the users working in the trenches? What advice do they have? That's exactly what we aimed to find out with this episode of AIIM on Air. Join your host Kevin Craine as he sits down with Elisabeth Belisle, Digital Transformation Consultant at Restore PLC, and Ed Steenhoek, Solution Principal and Product Manager at Informed Consulting to chat about the biggest difficulties being experienced right now by organizations working to be compliant with the GDPR and steps organizations should take to assess their state of compliance.
WIIM | intelligent information management | podcast | women in information management
Consider the following stats about women in the workplace: When women are in senior executive positions, companies achieve 70% stronger stock price growth. Companies with the highest gender diversity see a 10% greater return on equity and 48% higher operating result. Having at least 1 woman on a board decreases bankruptcy by 20%. Gender diversity is so important in business, especially in fields such as IT that tend to be historically male-dominant. That's why AIIM is so proud of its Women In Information Management (WIIM) community. Since its inception at The AIIM Conference in 2017, the WIIM program's purpose has been to advance women in information management by providing an online community to foster leadership, mentoring, advocacy, networking, industry education, and professional development. But, don't just take my word for it. On this podcast episode, your host Kevin Craine chats with two WIIM members, Connie Prendergast and Amy Harrelson about the online community, why it's important, and how to get involved.