analytics | cloud | content services | intelligent information management | podcast
Over the past few years, we've seen the Enterprise Content Management (ECM) industry go through some significant changes. Many would say it goes even deeper than change and have been calling it a metamorphosis. In nature, metamorphosis is the process of transformation from an immature form to an adult form in two or more distinct stages – a good example is a tadpole turning into a frog.
cloud | intelligent information management | mobile | podcast
The modern business ecosystem has changed considerably in just the past few years and with it have come some new challenges for the information professionals involved in storing, maintaining, and protecting it all. Managing business information has grown from something that was once limited and contained behind the corporate walls to something that's well…anywhere and everywhere! The rising demand for new devices, greater agility, and work beyond the corporate wall has given birth to a new wave of challenges, including: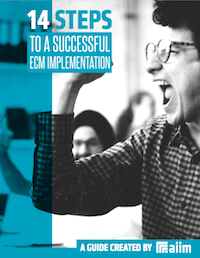 14 Steps to a Successful ECM Implementation
Making an ECM implementation successful requires planning and attention to detail. The best way to create the right solution is to identify organizational goals and priorities. Learn how to manage a successful implementation in our free guide.
digital transformation, | intelligent information management
Organizations around the world invest a great deal of time and money to manage information. The expense of hardware, software, and facilities can add up quickly and costs the average organization somewhere in the range of 3.5% to 7% of annual revenue. So, if you have a $50 million company you can anticipate that you'll spend around $3 million or so to manage your information every year.
certified information professional | foundations of intelligent information management | information professionals | intelligent information management | training
Last week, I had the privilege of teaching our inaugural Foundations of Intelligent Information Management course in Denver, CO. We had students from a variety of industries and locations take part in the course, which is designed to provide participants with a thorough understanding of the fundamentals of information management. Over four days, we covered the entire lifecycle of information management: Creating and capturing information Extracting intelligence from information Digitalizing core business processes Automating governance and compliance Implementing an information management solution
co-authoring | intelligent information management | oil and gas
Organizations today work with a great volume and variety of data. The trick is using that information in ways that improve the performance of the organization. One example is in the oil and gas industry where the stakes are extremely high; involving millions in revenue. Government approval for exploratory oil and gas rights are awarded to companies with the best technical application. The trouble is, assembling and authoring highly complex, high-value documents like exploratory proposals and regulatory submissions – which can often be thousands of pages – is a huge challenge.
FIle Shares | co-authoring | digital transformation, | intelligent information management
Prior to becoming involved with the content and information management industry, I spent several years in the high-volume printing industry. I was a mid-level executive for a large health insurance provider and was responsible for printing and mailing, pre-press and offset printing, and electronic book publishing across four states. And let me tell you, my teams concentrated on output. Tons of it. Twenty four hours a day, 365 days of the year. Imagine stacks of paper everywhere and truckloads of output being shipped and mailed nationwide. This is in great contrast to today and my current involvement in the enterprise content management industry (now Intelligent Information Management) where our attention is largely focused on input...with much less focus on output. We aggressively capture data, input that information into advanced systems and databases, and then safeguard it with methodologies and teams designed to collect and protect information.