The proliferation of technologies across the world has led to a global environment of interconnected devices that allow us to communicate with one another constantly. This exponential growth, in essence, is the Internet of Things. It is the chief idea of bringing all of our lives online so that they can be made safer and easier to lead. However, it goes much deeper and further than that. In the next few years, we are anticipating that more than 50 billion devices will be internet enabled thus adding to the Internet of Things (IoT).
information security | internet of things | security
IoT, or the Internet of Things, is a grand ambition of the most influential kind. It is a unified goal that seeks to create an internet age of unity and equality that we may not ever see in any other industry. In this article, we will explain why cybersecurity will save IoT and let us progress well into the future with greatly reduced hazard.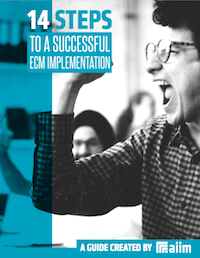 14 Steps to a Successful ECM Implementation
Making an ECM implementation successful requires planning and attention to detail. The best way to create the right solution is to identify organizational goals and priorities. Learn how to manage a successful implementation in our free guide.
content management | ecm | information management | internet of things | metadata
I recently spoke at the ABBYY Partner Conference in Tokyo (thanks to ABBYY for the kind invitation – for the second year in a row). My subject was "5 Strategies to Avoid the Digital Riptide."