digitization | ecm | erm | microsoft | office365 | sharepoint
A study (conducted by Hyperfish, Sharegate, and Nintex) found that 50% of organizations still use manual processes to enforce SharePoint governance. It doesn't have to be this way! New Office 365 capabilities allow you to automate important governance activities and core business processes.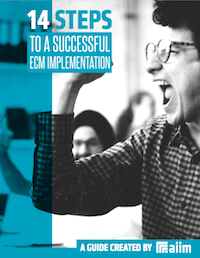 14 Steps to a Successful ECM Implementation
Making an ECM implementation successful requires planning and attention to detail. The best way to create the right solution is to identify organizational goals and priorities. Learn how to manage a successful implementation in our free guide.
aiim | ecm | ediscovery | industrywatch | microsoft | sharepoint
We've just released our new SharePoint survey. First thing, before talking about some of the insights in the report by AIIM Analyst Doug Miles, is to GET YOUR COPY. The research is free, but only for a short period -- after that, it will become a member only resource.
#spc12 | conference | microsoft | sharepoint | social business
Here are 7 articles I found interesting re the just concluded SharePoint 2012 Conference:
#spc12 | aiim | harmon.ie | microsoft | sharepoint
I just found out that I was named to the Harmon.ie Top 25 SharePoint influencers list. Thanks so much. I feel honored to be in such company -- Here's the full list, and here are the Twitter names for the top 10.
aiim | industry watch | microsoft | sharepoint
I like this word cloud from our most recent Industry Watch, The SharePoint Puzzle: Adding the Missing Pieces. The question? What additional features would you like to see in #SharePoint?