Compliance and records management | Iron Mountain | Obama | aiim | arma | certified information professional | records management
I recently did a webinar with Sue Trombley from Iron Mountain on the impact of the Obama Administration's records management initiative -- not just on the federal government, but on records management in general. The archived webinar is HERE.
E2.0 | Narwhal | Obama | Orca | Romney | certified information professional | elections
OK. We all swore on Election Day that we didn't want to hear one more word about anything to do with the Presidential election. Living in a swing state (Virgina), we were treated to an endless onslaught of horrendous negative ads from both candidates, plus at least 5-10 robo calls per day. The calls were not lost on kids as young as first graders. A friend of ours who teaches first grade reported that a student came in one morning, very excited, and reported, "Ms. Willis, you won't believe it. We got a personal phone call at home last night from BOTH Mitt Romney and Barack Obama."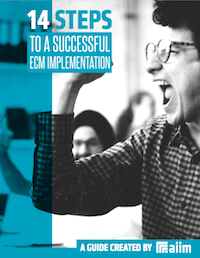 14 Steps to a Successful ECM Implementation
Making an ECM implementation successful requires planning and attention to detail. The best way to create the right solution is to identify organizational goals and priorities. Learn how to manage a successful implementation in our free guide.
8 things | 8things | Obama | aiim | content management | ecm | ehr | emr | health records | hospital | medical records
Ed McQuiston serves as Vice President of Sales for KeyMark, Inc., the Liberty, SC - based systems integrator of leading Enterprise Content Management and Capture software serving over 150 customers nationwide. He manages the sales and go-to market strategies to grow the presence of KeyMark's business analysis, consulting, solution design and implementation services in core vertical markets including insurance, government, healthcare, accounts payable operations, high-volume mailroom operations and remittance processing operations nationwide.
8 things | Obama | aiim | content management | ecm | white house
Inspired by my colleague Bryant Duhon's "What is ECM?" contest, the following is evidence of the danger of combining me with iMovie. But it was fun.