paper free day | paperless processes | world paper free day | wpfd
I did a post a while back on 8 Reasons Why World Paper Free Day Matters. That data was drawn from our 2015 survey. Well here's 8 more from this year's research report, 2016 Paper Free: Are We There Yet? Since the 1980s, we have been hearing about paper-free businesses and the drive to move toward a more digital workplace. At the time, the technology and people were not ready for this transformation. Today, the approach to digitally transform businesses has shifted from a technology first perspective to a more business-centric approach, with paper-free processes becoming a focal point and opportunity for many organizations.
bpm | business process management | paper free day | world paper free day
Worldwide, the promise of the paper-free enterprise has made the rounds for decades. While digital transformation is still on the horizon and drifts nearer, many voices doubt whether paperless ambitions will ever come to shore to create real change in our organizations. The AIIM Industry Watch Report titled "Paper Free in 2016 - Are we there yet?" tells a different story. While there is still a long road ahead, interest and motivation toward a paper-free business environment is increasing, and AIIM research finds that a quarter of respondents already indicate running a clear desk/paper-free workplace, and 43% say paper is decreasing in their offices somewhat to rapidly.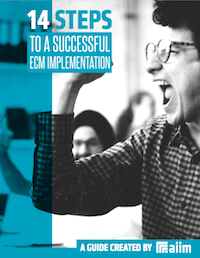 14 Steps to a Successful ECM Implementation
Making an ECM implementation successful requires planning and attention to detail. The best way to create the right solution is to identify organizational goals and priorities. Learn how to manage a successful implementation in our free guide.
ecm | paper free day | paperless processes
This is a guest post by Dan Lucarini, CMO of ibml and AIIM Board member.
ecm | paper free day | paperless processes | process automation | world paper free day
Some fun Twitter images -- Part 1 -- on World Paper Free Day. Keep them coming!
capture | content management | ecm | paper free day | paperfree office | scanning
Thinking About Change Management and Metrics Had a great time at our Paperfree/Process Transformation seminar in Chicago yesterday. I especially enjoyed the presentation by Jim Sibenaller, IT Director at Loyola Chicago (and recommended by one of our sponsors, Docfinity) on "Why Are Change Management and Metrics Such Crucial Aspects to Your Overall Deployment Strategy." Jim used this infographic to describe Loyola Chicago's content management journey: On the change management front, Jim talked about the need to understand the ECM Maturity "readiness" of a department before beginning discussion of project options. Far too often, ECM projects are shoved down the throats of end users by IT. Successful projects are those that meet the user halfway -- pushing them to change their processes to take advantage of the technology, but not so hard that they lose them along the way. Here are the six stages of ECM Maturity that Jim sees: Basic Document Retrieval - Basic image retrieval using queries, simple search. Basic Document Capture - Scanning documents with local scanner, manual indexing. Intermediate Capture & Indexing – Indexing images using business system screen scrapes/integration. Retrieving images through a "hot key." Intermediate Tools & Features - Bar code recognition. Using Send To/Print To to capture electronic files. Using basic workflows. Advanced Tools & Features – Using Full Text Search, "Scan First", Importers, eForms Processing, Mobile. Advanced Processing – Advanced workflow processes, Records Management, Dashboard. When it comes to metrics, Jim urged fellow end users to consider both hard and soft metrics, to use information already on hand, to keep it simple, and to focus on 3-5 key metrics. Loyola Chicago's overall results are impressive -- a 76% average process improvement on key metrics, 7800+ hours of annual saved effort (equal to 4.0 FTEs, who have been reassigned to more rewarding tasks), and $47,000 in direct annual cost reductions through consolidating operating costs. Jim's takeaways: Customer Readiness and Change: Engage and build trust Go at the user's pace Give them what they can easily consume Define clear objectives Metrics and Results: Measure "simple" Soft measurements are OK Be constantly willing to adjust Failure: It's OK to make mistakes Be humble -- learn from them Communication: Be relentless Communicate often Here are the end user organizations who attended yesterday – often multiple people from each organization. Thank you so much for taking the time to be there. AGL Resources Company -- Alliance for Audited Media -- Allstate Insurance Company -- American Medical Association -- American Family Insurance -- AON Corp -- Bank of America -- BMO Harris Bank – Brandobility – Brightstat -- Caterpillar, Inc. -- CDK Global -- Chicago Underwriting Group -- Christian Brothers Services -- City of St Charles -- Discover Financial Services -- Ernst & Young -- GE Capital -- Gordon Flesch Company – Grainger -- Horace Mann -- Illinois Housing Development Authority -- Integrys Energy -- KAR Auction -- Locke Lord LLP -- Loyola University Chicago -- LTD Commodities LLC -- McDermott Will & Emery LLP – MMSD – MOEITS -- MTL Insurance Company -- PCTEL, Inc -- Roberts Oxygen Company, Inc -- Sidley Austin Brown & Wood -- State Farm -- Thrivent Financial -- True Value – UBS -- University of Illinois -- UOP LLC/A Honeywell Company -- Urban Partnership Bank – Walgreens -- Waukesha County – William Blair ----- Free AIIM Seminar - in your city! Anaheim -- Houston -- Minneapolis -- New York -- San Francisco -- Washington See also: Stop 2 on the #AIIM Roadshow tour -- Toronto Travel report -- Day one of the #AIIM Roadshow -- Calgary
business process | ecm | paper free day | process
AIIM Roadshow Magical Mystery Paper and Process tour -- Toronto version 147 total attendees, including 100 people from 68 different user organizations, at least half of whom have no existing ECM solution, and are looking for help and advice. Seems like some business to be done here -- and a market in need of greater education. We took a few moments for a group shot of some of the AIIM Professional Members in the crowd, using the now popular "AIIM Boxes" t--shirt. An impressive group. Many thanks also to the local First Canadian chapter Board. An awesome group of volunteer leaders, committed to help bridge the gap between theory and practice in the content management space. Their LinkedIn page is HERE; get involved with these guys -- you'll have fun and learn a lot about content management. Full set of pics from the day are here for those who have ever wondered what exactly goes on at an AIIM roadshow -- https://www.flickr.com/photos/aiim/sets/72157659020147486/. Some of the my favorite slides from the presentations... Here's one from 4Point (talking about extended Adobe solutions). The core of the presentation focused on thinking through extending systems of record into systems of engagement, with particular emphasis on the critical role played by forms. They gave away the first drone at an AIIM event; I have to admit I was tempted to put my own card in the bowl under an alias. I liked this slide because it was a nice graphic of one of our own AIIM Industry Watch reports -- on mobile and the cloud. ASG -- aka Mobius -- discussed the challenging question of bridging back end data systems (often in ERP systems) with front end customer and employee facing systems. One good exampleof this challenge is the work they've done with the Duke University Health System. Pam Doyle from Fujitsu -- the education sponsor for the series -- discussed the need to move beyond definitions of "information governance" that are solely extensions of records management. I like this broader definition of information governance. TAB Records Management featured a powerpoint-less presentation, and urged attendees to be much more aggressive and proscriptive in eliminating paper from their business processes. Lexmark (aka Kofax -- can't quite get used to the green font yet!) described the First Mile of customer engagement and the need to link this first mile to back end systems of record. I especially liked their review of the current state of the mortgage application process, a process in need of radical definition if there ever was one. Lastly, Andrea Chiappe from Systemware about about "ECM-Individualized," a concept I rather like. They also gave away TWO Apple iWatches, which was quite cool. Here's some good advice from Andrea for when you are contemplating the cloud. Many thanks to ALL the attendees, but especially those from the end-user organizations in attendance -- many organizations sent multiple people -- who are just beginning their process transformation journey -- or are rethinking some of their past assumptions. Thanks so much. We also had adhoc attendee-organized roundtables on health care, non-profit/SME challenges, and the information management challenges posed by mergers and acquisitions. By show of hands at the event, at least HALF have NO ACTIVE ECM IMPLEMENTATION. Another datapoint reinforcing a contention I often make that this is a mature technology, but an immature market -- especially among small and mid-sized organizations. Apotex Inc. - ArcelorMittal Dofasco - Association of Community Legal Clinics of Ontario - Aviva Canada - BMO Financial Group - Board of Governors of Exhibition Place - Cancer Care Ontario - Cassels Brock and Blackwell LLP – CBC – CFIB - Chartered Professional Accountants of Ontario - Citco Bank N.V. - City Of Brampton - City of Toronto - Community and Social Services - Copernicus Educational Products - CPA Ontario - eHealth Ontario - Entertainment One - Farm Mutual Reinsurance Plan Inc. - Financier Banque Nationale – GlaxoSmithKline - Government of Ontario - Government of Canada - Greater Toronto Airports Authority (GTAA) – IESO - Kinross Gold Corporation - Manulife Financial - March of Dimes Canada – MCSS – Metrolinx - Ministry of Aboriginal Affairs - Ministry of Community and Social Services - Ministry of Government and Consumer Services - Ministry of Natural Resources and Forestry - Ministry of Community & Social Services - Mutual Fund Dealers Association of Canada - Northbridge Financial Corporation - Office of the Superintendent of Financial Institutions - Ontario College of Teachers - Ontario College of Trades - Ontario Financing Authority - Ontario Government – Ontario - Municipal Employees Retirement System - Ontario Power Generation - Ontario Public Service - Ontario Securities Commission - Ontario Shared Services - Osgoode Hall Law School - Oxford Properties Group - PACE Independent Living - Pembina Institute - Province of Ontario - Public Works and Government Services Canada - Region of Peel - Rogers Company – Scotiabank - Société de Transport de Montr̩eal - The Nature Conservancy of Canada - Toronto Transit Commission - Towers Watson - Town of Newmarket - Town of Richmond Hill - Township of King – UBS - Ville de Beloeil - Williams Lea (Baker & McKenzie LLP) - Workplace Safety & Insurance Board (WSIB) of Ontario ----- There are still some upcoming cities in the tour. Join the fun. Free AIIM Seminar - in your city! Anaheim -- Chicago -- Houston -- Minneapolis -- New York -- San Francisco -- Washington Twitter contacts for above mentions -- @jmancini77 @AIIM1Canadian @LexmarkSW @TABOnRecord @FujitsuAmerica @Systemware @ASGSoftware @4Point_