AIIM19 | digital transformation, | intelligent information management | podcast
Are you counting down the days until The AIIM Conference 2019? Yeah, same here! But, I have a couple things that I think will help tide us over until the end of March when we all head to San Diego, CA.
digital transformation, | pdf | podcast
Ask any builder and they'll probably tell you that the strength of a building lies in its foundation. It's the portion of the building upon which the entire structure sits – meaning without a solid foundation, a building or home won't stand the test of time and can actually be dangerous to its occupants.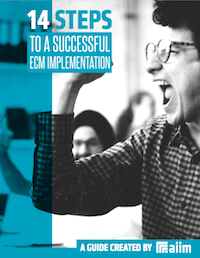 14 Steps to a Successful ECM Implementation
Making an ECM implementation successful requires planning and attention to detail. The best way to create the right solution is to identify organizational goals and priorities. Learn how to manage a successful implementation in our free guide.
AI | Artificial Intelligence | deep learning | digital transformation, | machine learning | podcast
No matter where you turn, it seems you can't help but run into discussion about Artificial Intelligence being the future of Intelligent Information Management. In fact, when we surveyed the AIIM Community about it and found that: 81% of organizations reported that Deep Learning and Machine Learning are key to their future technology and business planning.
digital transformation, | intelligent information management | podcast
The beginning of the year new year is always such an inspiring time – it's the time of year that many of us begin to reflect on the previous year, take note of potential areas for growth and opportunity, celebrate our accomplishments, and ultimately shape a plan for continued success in the new year. This exercise is often done both on a personal level in our daily lives as well as with our employers in our business lives.
AI | Artificial Intelligence | digital transformation, | podcast
If you take a look around your office, home, or even places like your car you're sure to see it – Artificial Intelligence. And it's not just in our personal lives, in the world of business we continue to grow and expand the way we work with the use of automation, smart machines, and more.
big data | bigdata | digital transformation, | podcast
We have a small problem with Big Data...the majority of us just don't completely understand it. Sure, we've all heard the term "Big Data" - but I'm willing to bet if I asked a room full of people what it was, I'd get puzzled looks and shrugged shoulders from about half the room...and I'm sure I'd lose most of the other half of the room if I followed up that question by asking how to leverage big data for real business value.