certification | certified information professional | certified information professionals | digital disruption | information certification | podcast
Test...Quiz...Exam...How do these words make you feel? For many, the mere mention of them is enough to conjure up feelings of anxiety, stress and pressure. You don't often hear people say, "I LOVE taking tests." At AIIM, we know tests can be downright scary. But, we also know the power of preparation and understanding. A lot of times fear comes from the unknown - in the case of a test, not knowing what to expect, not knowing if you're prepared, and just overall fear of failure from not knowing enough.
Artificial Intelligence | digital disruption | digital transformation, | machine learning | podcast
For me, "Artificial Intelligence" used to conjure up images of the latest Sci-Fi movie or things like the talking car KITT from the 80's TV show Knight Rider. It wasn't until fairly recently that I began to see this shift from Sci-Fi movie topic to business value.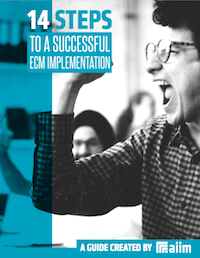 14 Steps to a Successful ECM Implementation
Making an ECM implementation successful requires planning and attention to detail. The best way to create the right solution is to identify organizational goals and priorities. Learn how to manage a successful implementation in our free guide.
digital disruption | digital transformation, | podcast
We were so excited to learn that AIIM's podcast - AIIM on Air - has been named one of the Top 5 Enterprise Content Management Podcasts of 2017 by Solutions Review. We're happy, we're proud, but most importantly - we're thankful. We recognize that we couldn't reach this kind of success without people like you, our dedicated listeners. Since launching the podcast, we've had over 400,000 downloads and have been averaging close to 10,000 downloads per month! So, in celebration of this achievement, we wanted to share our top 3 most downloaded episodes of 2018.
Artificial Intelligence | digital disruption | digital transformation, | machine learning | podcast
For over 10 years now, AIIM's Leadership Council (LC) summit series has been the go-to event where the forward-thinking professionals in information management gather to delve into matters impacting the future of the industry. These member-only events offer a collaborative space for the dynamic conversations that help shape the role of the information management industry in a new era of business. In June of 2018, summit meetings were held in in Baltimore and London to discuss Surviving Digital Disruption: Finding Opportunity in the Drive for Platform Dominance. The discussion from those events was developed into a report: Surviving Digital Disruption (available for download).
intelligent information management | podcast
Intelligent Information Management (IIM)...It sounds great, but what the heck do those 3 words really mean? Here at AIIM, you've probably heard us use IIM to describe the core set of capabilities that are necessary for organizations to digitally transform. In fact, we believe so whole-heartedly that it's the future of Information Management that we actually changed our name to the Association of Intelligent Information Management and even wrote the book on it. But, what does IIM mean from a user's perspective? What's changing in the industry that's driving IIM? That's what host Kevin Craine aimed to find out on this episode of AIIM on Air. Follow along as Kevin speaks with new AIIM member and Solution Manager at Consolis Sten Söderberg about the evolution of IIM and the upcoming challenges. With over 30 years in the industry, Sten offers a user's view of where the industry has come and where it's headed. Then, Kevin chats with Craig Hatfield, Lead Developer - OnBase / ECM at Sherwin-Williams Paints about his real world experience implementing systems and workflow that bring about more intelligent information management.
gdpr | information security | intelligent information management | podcast | privacy
It's hard to believe it has been just about 3 months since the General Data Protection Regulation (GDPR) went into effect on May 25th, 2018. This new regulation was designed to strengthen and unify data protection for individuals within the European Union (EU) and came with a strict set of compliance protocols. And, because GDPR also applies to the export of personal data outside the EU, it's applicable to any entity that uses or exchanges this data - so, there are a lot of us all around the world feeling the pressure of GDPR. To help organizations prepare, there's no shortage of valuable GDPR resources available all over the internet. But, what about advice from the users working in the trenches? What advice do they have? That's exactly what we aimed to find out with this episode of AIIM on Air. Join your host Kevin Craine as he sits down with Elisabeth Belisle, Digital Transformation Consultant at Restore PLC, and Ed Steenhoek, Solution Principal and Product Manager at Informed Consulting to chat about the biggest difficulties being experienced right now by organizations working to be compliant with the GDPR and steps organizations should take to assess their state of compliance.