CRM | HR | bpm | erp | process management
I've been working on a project over the past few weeks focused on the role that content plays in core business processes, specifically Human Resources (HR), Customer Relationship Management (CRM), and Enterprise Resource Planning (ERP).
capture | digital transformation, | information chaos | process management
Digital Transformation Roundup -- 6 Information Management Tip Sheets and 28 "Must Knows" You Don't Want to Miss In case you missed them while taking a few days off this summer, here are a few of my most popular tip sheets and posts from the summer. Check 'em out. 7 Tips to Create MORE Information Chaos There are lots of ways to being to attack the challenge of information chaos. But how might you inadvertently make things worse? 6 Things You Need to Know About Emerging Markets and Information Management Among both information management users and information management solution-providers, the digital disruption that is coming drives a number of opportunities and challenges. On the user side, organizations must extend their content and information management capabilities into new markets, and understand how those markets are different from the traditional markets they serve, and think through how those different needs translate into different content management infrastructure requirements. Similarly, content management solution providers have focused on established markets and economies. They will now face two pressures: 1) new "home-grown" content management competitors who really understand the unique issues of their home markets; and 2) pressures from their customer base to provide the tools they need to penetrate emerging market. 3 Reasons Why Document Processing Should Matter to the C-Suite Here's the fundamental question for many organizations – When it comes to streamlined document processing, why bother? What business results can you expect if you go down this path? Let's take a look at intelligent document recognition and streamlined document processing through the prism of the 3 things that keep C-level executives up at night: Cost, Compliance, and Customers. 4 Steps to Leverage What You Already Have and Know to Improve Customer Experiences Digital Disruption. Digital Experiences. They are on the wish list for just about every C-level executive. But where do you start? How do you move from the hype to value? A good place to start is by leveraging the capabilities you likely already have – scanning, capture, and the digital mailroom – and extending them into the core processes that you use to run your business. 5 Faces of Information Chaos For many years, I've watched people in organizations that I KNOW could benefit from content technologies politely listen to sales presentations, nod their heads and then back away from a decision. I find this "reluctance to commit" mysterious, because most of the people that I've spoken with who have automated a previously paper-driven process swear by the results and wouldn't return to life pre-content management for anything. I'm convinced that this "reluctance to commit" is due to the fact that many on the sell-side of our industry (including AIIM at times, I'll confess!) can't resist talking about technology. ECM! BPM! Taxonomies! Metadata! Capture! 3 Questions to Ask About Content Creation Content is a valuable corporate asset, driven by value, created by many authors, and generated from many sources. Yet content creation is often taken for granted by business organizations as something that just happens as part of the daily business routine. ----- You might also be interested in these 6 blog posts... 8 Reminders About Why World Paper Free Day Matters Digital Disruption and the Structure of Emerging Markets 7 Tips to Unstick Your SharePoint Implementation Big Data, Content Analytics, Information Capture and the Hype Curve Preparing for the Era of Intelligent Machines What Part of Being Blockbustered Don't You Understand? Digital Transformation In Action ----- In the Toronto, NY or DC metro areas? We've got a process improvement seminar coming up in your neighborhood! They're FREE. Washington DC event -- October 4 at the National Press Club New York event-- October 6 at the Manhattan Penthouse Toronto event -- October 13 at the Allstream Centre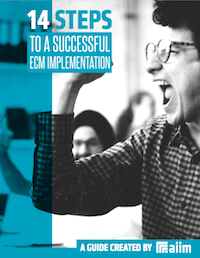 14 Steps to a Successful ECM Implementation
Making an ECM implementation successful requires planning and attention to detail. The best way to create the right solution is to identify organizational goals and priorities. Learn how to manage a successful implementation in our free guide.
bpm | capture | ecm | process | process management
The AIIM roadshow is continuing along. Five cities down and four to go. Cities still to come... (Still time to register -- events are free) Anaheim -- Houston -- San Francisco -- Washington It was terrific in Minneapolis to catch up with AIIM superstar and Santa doppleganger Carl Anderson, and to spend a little time with New York chapter president John Schaeffer. One of the presentations that caught my attention in Minneapolis was by Array Technology, with a focus on their Constellation Content Cloud. The business problem they focus on is sorting through the initial document chaos that is present in just about any organization and automating document and content ingestion and digestion. The particular aspect I liked was sorting through the processes -- typically manual processes in most organizations -- involved in: 1) improving the scale of document imaging (how can you speed up and automate document ingestion), 2) reducing manual labor, 3) applying metadata, and 4) improving ECM usability. I'm not in the business of recommending any particular solution, but I do like the way they describe and organize the ingestion/digestion problem. Here's the slide they used: Hope to see some of you in Anaheim, Houston, San Francisco or Washington. Previous trip reports... AIIM Magical Mystery Tour Stop 3 – A Focus on Change Management and Metrics Stop 2 on the #AIIM Roadshow tour -- Toronto Travel report -- Day one of the #AIIM Roadshow -- Calgary
ecm | paper | paper free day | process management | processes
7 questions you should ask about paper reduction and process transformation Number 7 -- How should mobile/cloud change the way you develop content and deploy processes? Get moving, or risk the business proceeding without you -> Individuals are largely in favor of moving ECM content to the cloud (71%), mostly as a small on-prem/large cloud hybrid. Their organizations are less positive, with 48% in favor of cloud, 28% resolutely against, and 28% with no decision made as yet. There is a shift toward platforms with greater agility -> Per Forrester, "Some firms are turning to new, "low-code" application platforms that accelerate app delivery by dramatically reduce the amount of hand-coding required. Faster delivery is the primary benefit of these application platforms; they also help firms respond more quickly to customer feedback after initial software releases and provision mobile and multichannel apps. Usage of low-code platforms is gaining momentum for customer-facing applications. Number 6 -- How should you handle paper, mobile, on-premise, and cloud information so you don't get in trouble with the lawyers? Number 5 - What is "case management" and why is it critical in meeting and exceeding the expectations of customers? Number 4 -- How is mobile changing how you capture and create process-based content? Number 3 -- Why is information "capture" and creation more than just scanning documents into an archive? Number 2 -- In what kinds of processes can a focus on paper reduction generate quick wins? Number 1 -- Why should you care about paper reduction and process transformation? Come to our free seminar on going paper-free. Coming to a city near you! Anaheim -- Calgary -- Chicago -- Houston -- Minneapolis -- New York -- San Francisco -- Toronto -- Washington The AIIM Tribe stop one in Calgary:
ecm | paper | paper free day | process management | processes
7 questions you should ask about paper reduction and process transformation Number 5 - What is "case management" and why is it critical in meeting and exceeding the expectations of customers? The problem of storing customer information in multiple places is not going away -> 52% have three or more ECM/DM/RM systems. 22% have five or more (38% of the largest). These numbers are a few percentage points up on the 2013 survey, so no evidence of consolidation as yet. Organizations lack a consistent strategy to capture, view, and act on customer information -> 30% have some degree of integrated multi-channel inbound communications, but only 5% are auto-routing to multiple processes. 22% handle paper and electronic inbound separately. Processes are not as predictable as we would like -> For 51% of the organizations polled, half or more of their business processes are not straightforward or predictable. For 62% half or more processes involve assembling a case folder, claim file, project folder, proposal, etc. Number 4 -- How is mobile changing how you capture and create process-based content? Number 3 -- Why is information "capture" and creation more than just scanning documents into an archive? Number 2 -- In what kinds of processes can a focus on paper reduction generate quick wins? Number 1 -- Why should you care about paper reduction and process transformation? Come to our free seminar on going paper-free. Coming to a city near you! Anaheim -- Calgary -- Chicago -- Houston -- Minneapolis -- New York -- San Francisco -- Toronto -- Washington
ecm | paper | paper free day | process management | processes
7 questions you should ask about paper reduction and process transformation Number 4 -- How is mobile changing how you capture and create process-based content? Mobile is increasingly core to business strategy -> Two thirds of respondents recognize the importance of mobile devices for content access and data capture. 25% are keen to exploit mobile and 9% see it as a "required option for all processes." Mobile places an ad hoc scanner and form generator in the pocket of every employee, customer, and partner. Information captured via mobile devices contains a host of useful metadata. Number 3 -- Why information "capture" and creation is more than just scanning documents into an archive? Number 2 -- In what kinds of processes can a focus on paper reduction generate quick wins? Number 1 -- Why should you care about paper reduction and process transformation? Come to our free seminar on going paper-free. Coming to a city near you! Anaheim -- Calgary -- Chicago -- Houston -- Minneapolis -- New York -- San Francisco -- Toronto -- Washington