Compliance and records management | content management | metadata | records management
We once had an IT person who worked for us who took a page out of the old Saturday Night Live routine, Nick Burns -- Your Company's Computer Guy, who guarantees to "fix your computer and then make fun of you."
archive | archiving | information governance | information preservation | records management
It's bad enough that those of us in the technology space use three letter acronyms as if we're being paid per usage. So here's a quick definition of terms for those mystified by the title of this post. If you are not conversant in Dr. Doolittle (even the Eddie Murphy version), Pushmi-Pullyu is a "gazelle-unicorn cross that has two heads (one of each) at opposite ends of its body." Many of you are aware that I've been working on a personal mystery project on the weekends that I'm publishing on Medium since it goes beyond the kind of thing we usually cover in this space (In search of my Grandparents -- A records management journey).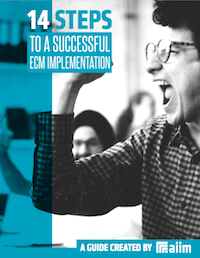 14 Steps to a Successful ECM Implementation
Making an ECM implementation successful requires planning and attention to detail. The best way to create the right solution is to identify organizational goals and priorities. Learn how to manage a successful implementation in our free guide.
information governance | information management | intelligent information management | records management
Over 100 eBooks, Guest articles, and Tip Sheets from the past year or so -- 107 of them to be exact. Enjoy.
collaboration | gdpr | records management | social media
A new set of European rules and standards related to privacy and data protection (the General Data Protection Regulation, or GDPR) has set in motion a mad compliance and security scramble not only for European companies, but also for any company doing business in Europe or with European customers. The regulation is designed to harmonize privacy across the EU, codify more rigorous privacy rights; strike a balance between privacy and security and create an explicit obligation for both data controllers and processors to demonstrate compliance with GDPR. The clock is ticking – the regulation goes into effect on May 25th, 2018, and the potential penalties for non-compliance are significant (organizations found to be in breach of GDPR may be fined up to 4% of annual revenues or 20 million Euro, whichever is the greater).
electronic records management | erm | records management
Every business is in the business of the business. In other words, every organization - public sector or private, small or gigantic, and regardless of structure or geographic location, has a mission and organizational goals and objectives upon which it focuses.