social | social content | social meda
Social media marketing is a great way to help launch your startup. It's cheap and effective -- if you have a strategy. Where do you start? How do you attract customers through platforms like Twitter and Instagram? This guide will help you answer these questions and more. Here are 8 essential tips to help your social media marketing efforts:
compliance | electronic records management | social meda
It's an embarrassing question to ask most organizations, but does your social media presence reflect the reality that the responsibility of business documentation doesn't go away just because the information is on social media?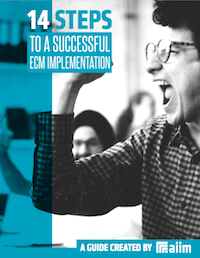 14 Steps to a Successful ECM Implementation
Making an ECM implementation successful requires planning and attention to detail. The best way to create the right solution is to identify organizational goals and priorities. Learn how to manage a successful implementation in our free guide.
Compliance and records management | archive | electronic records management | employee engagement | engagement | social meda | systems of engagement
Employee Engagement is the Holy Grail "Engagement" is the Holy Grail for every organization, and enterprise collaboration systems are at the heart of efforts to more deeply engage employees. Deloitte notes, "In a digital world with increasing transparency and the growing influence of Millennials, employees expect a productive, engaging, enjoyable work experience."
IBM | aiim | clearvale | hype | igloo | process | social | social business | social meda | tibbr | workshare
We've taken the highlights from our "Social in the Flow" Industry Watch and turned them into a killer infographic. Check it out, and feel free to socialize it.