Compliance and records management | archive | electronic records management | employee engagement | engagement | social meda | systems of engagement
Employee Engagement is the Holy Grail "Engagement" is the Holy Grail for every organization, and enterprise collaboration systems are at the heart of efforts to more deeply engage employees. Deloitte notes, "In a digital world with increasing transparency and the growing influence of Millennials, employees expect a productive, engaging, enjoyable work experience."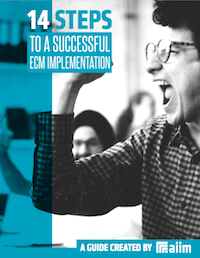 14 Steps to a Successful ECM Implementation
Making an ECM implementation successful requires planning and attention to detail. The best way to create the right solution is to identify organizational goals and priorities. Learn how to manage a successful implementation in our free guide.
E2.0 | IBM | Industry statistics and research | aiim | big data | bpm | certified information professional | cloudera | content | ecm | freeform dynamics | information certification | systems of engagement | systems of record
I've been thinking about the question of the relationship of content and unstructured information to the seemingly never-ending parade of articles about Big Data. There is a certain element to this thinking that frankly is opportunistic, finding me thinking, "Hey, if EVERYONE is going to talk about Big Data, I want a piece of that." But there is also the stubborn reality that unstructured information is the red-headed stepchild of the Big Data equation - and the source of so much untapped value and intelligence in organizations. And our community - users, solution providers and consultants - knows something about this whole messy question of unstructured information.
aiim | crossing the chasm | digital landfill | geoff moore | information certification | mancini | systems of engagement
Per Giovanni Rodriguez of Forbes, the best social media idea of 2011 was AIIM's work with Geoffrey Moore!