Artificial Intelligence | digital transformation, | machine learning | training
Disruptive Technologies are changing existing landscapes Technology has had a profound impact on the business world. Simply walk into any business, no matter the size, and you will see the prolific adoption of technology. Digital project boards, virtual teams scattered across the globe; are all indicators of business reliance on this "fourth industrial revolution." From industry data and anecdotal evidence, this tech utilization is on an exponential increase.
digital disruption | office365 | podcast | sharepoint | training
How do you make SharePoint and Office 365 deliver value as an intelligent information management platform? That's what we sought to find out when we first contacted SharePoint expert, Rob Bogue. Rob basically eats, breathes, and sleeps SharePoint, so we knew he'd be the perfect one to work with.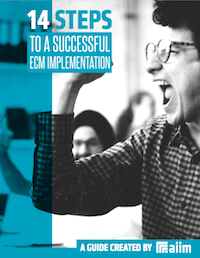 14 Steps to a Successful ECM Implementation
Making an ECM implementation successful requires planning and attention to detail. The best way to create the right solution is to identify organizational goals and priorities. Learn how to manage a successful implementation in our free guide.
cloud | cloud computing | cloud content management | training
If we were to believe everything we hear in the press, then all computing and data storage is moving to the cloud — and quickly! The reality, though, is more nuanced. Firstly, there is no singular cloud; instead, there are hundreds of clouds to choose from. Secondly, not everything is moving to the cloud, and even the stuff that is, is moving slowly. The world of Information Management has been somewhat slow and reluctant to move to the cloud, and often with good reason.
automation | bpm | business process management | process automation | robotic process automation | rpa | training
I've been involved in some way or another in the world of business process automation (BPM) for over twenty years. I was the author of AIIM's first BPM training course back in 2006. I'm a big fan of the idea of reengineering business processes, but there is no getting away from the fact that BPM projects are complex and scary – they require buy-in from the top (which is always difficult) and are seldom inexpensive undertakings.
Blockchain is the hot topic of the IT industry – the explosive and rapid growth of BitCoin has taken the obscure technology of distributed ledgers into mainstream consciousness. But the question we want to ask is "Does Blockchain have a role to play in Information Management? Does it have a role beyond cryptocurrencies?"
Artificial Intelligence | machine learning | training
These days it feels almost impossible to have a conversation with anyone involved in the world of Information Management without bringing up machine learning and artificial intelligence. Everyone is talking about it, everyone has an opinion, everyone claims to be doing it — or at least thinking about doing it. AI is part of the popular zeitgeist, entering our lives in the form of autonomous vehicles on our roads, Alexa in our homes, and a burgeoning AI arms race between rival world powers. Yet despite all the talk, no one really seems to agree on what its real impact will be. In fact, everyone seems to have a different definition for what 'it' even is. There are those telling us it's nothing new and its potential is over-hyped, while others tell us that AI and Machine Learning will make us all redundant.