For decades, VR has been a dream for video gamers. Despite infamous disappointments like Nintendo's Virtual Boy, the goal of creating fully-realized VR experiences for immersive gameplay has remained. After countless iterations of vaporware, VR is finally becoming a reality. VR is far from perfect, but hardware like PSVR, Oculus Rift, and the HTC Vive have made it far more appealing for developers and consumers alike. Investing in VR no longer requires thousands of dollars and state-of-the-art machinery. Free software and affordable VR headsets present an opportunity for relatively low-cost investment for new developers. Here are 5 tools to jumpstart your VR project:
Artificial Intelligence | branding | digital transformation, | virtual reality
Virtual reality has a truly astounding trajectory. The VR hardware and software market has already tripled in size in only two years. In a few short years, Statista predicts that the market size for virtual reality software and hardware will expand to over $40 billion. Only a decade ago, virtual reality seemed like a distant dream. Now it seems that VR is more than an outlet for escapism, entertainment, and media. It seems VR is poised to disrupt all sorts of business practices and even entire industries. For instance, healthcare, education, and journalism are experimenting with VR and related technologies.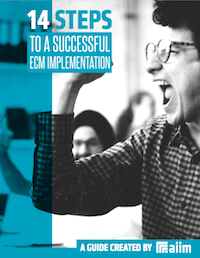 14 Steps to a Successful ECM Implementation
Making an ECM implementation successful requires planning and attention to detail. The best way to create the right solution is to identify organizational goals and priorities. Learn how to manage a successful implementation in our free guide.