business process | paperless | world paper free day | wpfd
In pursuit of the paperless enterprise it is often easy to lose our way. Projects stall, months pass and ROI is nowhere on the horizon, and all the while paper continues to rifle through our processes like stubborn weeds. Paper overwhelms the enterprise, and the difficult task to remove it all can cause a crisis of motivation.
paper free day | paperless processes | world paper free day | wpfd
I did a post a while back on 8 Reasons Why World Paper Free Day Matters. That data was drawn from our 2015 survey. Well here's 8 more from this year's research report, 2016 Paper Free: Are We There Yet? Since the 1980s, we have been hearing about paper-free businesses and the drive to move toward a more digital workplace. At the time, the technology and people were not ready for this transformation. Today, the approach to digitally transform businesses has shifted from a technology first perspective to a more business-centric approach, with paper-free processes becoming a focal point and opportunity for many organizations.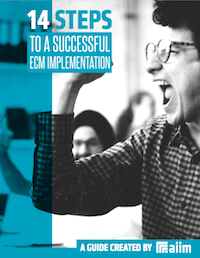 14 Steps to a Successful ECM Implementation
Making an ECM implementation successful requires planning and attention to detail. The best way to create the right solution is to identify organizational goals and priorities. Learn how to manage a successful implementation in our free guide.
bpm | business process management | paper free day | world paper free day
Worldwide, the promise of the paper-free enterprise has made the rounds for decades. While digital transformation is still on the horizon and drifts nearer, many voices doubt whether paperless ambitions will ever come to shore to create real change in our organizations. The AIIM Industry Watch Report titled "Paper Free in 2016 - Are we there yet?" tells a different story. While there is still a long road ahead, interest and motivation toward a paper-free business environment is increasing, and AIIM research finds that a quarter of respondents already indicate running a clear desk/paper-free workplace, and 43% say paper is decreasing in their offices somewhat to rapidly.
paperfree office | paperless processes | world paper free day | wpfd
The song of being paperfree has been sung since the early days of document imaging. As technologies have advanced and business organizations have come to realize the negative impact paper has on operational processes, getting rid of paper is fast becoming a possibility And while it may not be enterprise level, there are definite signs that departmentally, as seen in this report highlighting changes in HR and AP, businesses are making the transition to a paperfree business model.
paperfree office | paperless processes | world paper free day | wpfd
Just a reminder, World Paper Free Day is November 4! Just around the corner! Bookmark THIS LINK to stay informed about the latest plans. There are a lot of exciting new things coming. In the meantime, here's 8 paperfree nuggets to get the juices flowing. You can get the full Executive Summary of last year's Paper-Free Industry Study HERE. Paper in the Office-only 17% of respondents work in what could be described as a paper-free office. 31% admit their office is piled high with paper documents and paper processes. 40% still use paper for filing "important stuff," and 56% are wed to signatures on paper for contracts and order forms. 20% report that their consumption of paper is increasing; but for 49% it is decreasing, including 11% where it is decreasing rapidly. This 2015 net of 29% compares with 23% net in 2014 and 3% net in 2011. 55% report that paper flowing through their processes is decreasing including 12% rapidly decreasing. With 20% increasing, this net of 35% compares with 21% in 2014 and 21% in 2011. The number of organizations actively looking at every process for paper elimination has grown from 9% in 2014 to 16% in 2015, including just 3% who feel they have reached the limit. 36% feel they are making good progress, with just 7% sticking with paper processes – down from 11% in 2014. Lack of management initiatives is given equal weight to staff preferences (49%) as the reason there is still so much paper around. 39% feel there is a general lack of understanding of paper-free options. 41% are using OCR in some form. 23% are capturing process data including 9% using intelligent/adaptive workflows. 16% are not using OCR, but workflow flat images, and 18% scan primarily for archive. The biggest driver for scanning and data capture is improved searchability and sharability (53%). Higher productivity, reduced storage space and faster response are all key drivers. 27% have an environmental policy to reduce paper usage. 40% of organizations report that more than half of their invoices are now delivered electronically - but 35% agree that most get printed anyway. 31% agree that most of the paper documents they retain are only there for the signatures, and that most of the documents they scan are unchanged from printer to scanner. ----- I rather like this ebook - "Going Paperless in 90 Days." Check it out. ----- In the Toronto, NY or DC metro areas? We've got a process improvement seminar coming up in your neighborhood! They're FREE. Washington DC event -- October 4 at the National Press Club New York event-- October 6 at the Manhattan Penthouse Toronto event -- October 13 at the Allstream Centre ----- You might also be interested in... Brexit, Presidential Campaign Follies, the Olympics and Disruption Déjà vu
aiim16 | cummins | disruption | paperfree office | world paper free day
We are doing a series of blog posts tied insights from some of the AIIM Board and speakers at AIIM16. We're doing this under the series name, Stop Waiting and Start Doing: Rules to Tackle Digital Disruption. You can check out all of the previous "Rules" at the end of this post. The seventh "rule" is submitted by Charley Barth, Executive Director of global enterprise content management at Cummins Inc. Prior to that Charley was the 8th Director of the Federal Register. He began his Government service with the United States Senate, then the Department of the Navy, then Homeland Security and last with NARA. He previously served as the Chairman on the Advisory Committee on the Electronic Records Archives for the Archivist of the United States. In 2007 his office was awarded the Archivist Achievement award by NARA, in 2010, Mr. Barth traveled to Iraq to assist the Joint Staff headquarters with record management and in 2012, his office received the Harvard University bright idea award for innovative achievement. And one of my favorite job listings ever on LinkedIn, he was owner of a vineyard. Charley's focus will be a key one at AIIM16 -- Where to begin? Establishing a Global ECM Program at a Fortune 500 company. He will explore how Cummins responded to a Records Information Management Internal Audit and how they were able to establish an ECM Program that includes a strategic ECM roadmap, governance plan, audit response, and domain capability model. And here's one of Charley's rules: Rule #7 - Don't forget about paper! Charley explains: "There is so much focus on digital documents that many times people just give up on the paper holdings. Remember there is legal risk to keeping that paper around and also storage and servicing costs associated with those records. Paper is easier to tackle than digital so perhaps you should look at starting with the paper first." Tim Osman, Marketing Manager at OPEX Corporation, concurs: "John, you and I have discussed this 'chasing the shiny' of digital disruption on previous occasions. Don't get me wrong, I agree that digital transformation is valid, important and definitely on a forward march. But I agree with Charley here: Some believe that it is an all or nothing proposition, leaving existing paper processes in the ditch to fend for themselves. This oversight not only serves to slow the march of progress but it also increases the unnecessary casualties of cost and risk. There is a better way to address your existing paper/mail center processes that will not only enhance the march toward digital transformation but will also transform a lagging process along the way." OPEX is one of the sponsors at AIIM16. ----- Previous "Rules" Disruption Rule 1 - Find out what your people are REALLY doing BEFORE claiming you know the ins and outs Disruption Rule 2 - Leverage the technology you already use Disruption Rule 3 - Do a Thorough Benefit Realization Disruption Rule 4 - Have a Disruption War Chest! Disruption Rule 5 - Don't Blame the Technology Disruption Rule 6 - Seek Trusted Advisors