Join us for this informative webinar on
Wednesday, September 8th, 2021
1:00-2:00 pm EST (GMT-4)
12 pm CST; 11 pm MST; 10 am PST
6 pm British Time (GMT+1); 7 pm Central Europe Time (GMT +2)
*If you're unable to attend the live event, register and we will send you the replay shortly after the webinar ends*
---
The journey to executive leadership can follow different (and often uneven) paths. As a woman leader, you have likely faced a variety of unique roadblocks along the way. You may have been placed on a path that failed to lead to the C-suite.

Join AIIM's Peggy Winton and Microsoft's Karuana Gatimu for a candid conversation about the conscious and deliberate approaches they took to overcome obstacles, develop essential skills, and make the decisions that put them on the executive trajectory.

You'll also learn about the key initiatives that Microsoft and other organizations are implementing to prevent gender bias and establish equitable and transparent processes around career and leadership development.

We encourage you to take part in the dialogue with your own questions, comments, and ideas. Let's grow together.
This webinar is approved for 1.0 hour of CIP Maintenance Credits.
Speakers for this event: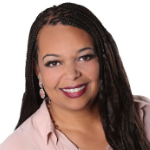 Karuana Gatimu
Principal Manager, Customer Advocacy Group
Microsoft Teams Engineering
Twitter: @karuana
LinkedIn: https://www.linkedin.com/in/karuanagatimu/
Website: https://adoption.microsoft.com
Karuana Gatimu is a business architect and productivity expert currently working in the Microsoft Teams product group. With a 25-year history in collaboration and corporate IT, she is experienced in Microsoft 365 services with a focus on Microsoft Teams, SharePoint, and PowerPlatform. Her team currently drives worldwide adoption of Microsoft 365 services, product feedback, and technical readiness for IT professionals, developers, and productivity Champions, including the Microsoft 365 Champions program and the Teams Technical Community. Her specialized experience in enterprise, government, non-profit, and retail solution architecture allows her to build large scale adoption programs and create the Microsoft Service Adoption Specialist course. She is the host & executive producer of Coffee in the Cloud on YouTube and a frequent speaker on empowering female leadership in technology and the future of collaboration.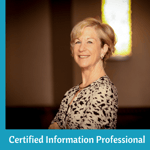 Peggy Winton
President & CEO
AIIM
Peggy has over 30 years of program, product, and business development experience and is responsible for the strategic, technical, and business direction of AIIM. Peggy believes that marketing and technology are converging and moving to the forefront of the business in order to deliver the ultimate customer experience and adapt to a world that has shifted from physical to data, technology, and automation. She has applied this philosophy to a set of inbound methodologies that have resulted in significant reach and growth of the active AIIM community (now 200,000). Winton joined AIIM in January 2002 directly from Computer Sciences Corporation (CSC), where she served as Business Developer and strategist for the Consulting Group. Prior to CSC, Winton was Vice President and Chief Operating Officer for TTM, Inc., an international firm specializing in web-based and cooperative marketing programs for tourism development. She earned a Bachelor's Degree from Randolph-Macon Woman's College and a Master's Degree from the University of Maryland. An accomplished writer and speaker, she has authored numerous articles, as well as developed key strategic plans and presentations for the Association. Winton regularly speaks at AIIM and AIIM partner conferences on buyer trends and information-driven business processes.
Supporters of AIIM's Women in Information Management (WIIM) Group