I'll be pontificating on 2015 over the next few weeks. Actually, I have already started. Prediction number one was published on the IBM Big Data and Analytics blog. I think there will likely be about 12 -- kind of like the 12 Days of Predictions. But maybe not; we'll see. At some point I will need to start actual Christmas shopping.
My running tally of prediction posts so far:
2015: The Year of the I in IT (originally published on the IBM blog; will republish at the end)
2015: The Commoditization of File Sync and Share
The Commoditization of File Sync and Share
My oh my how things are changing in the File Sync and Share space.
It wasn't that long ago that Box and Dropbox had the game mostly to themselves. Box dominated on the enterprise side, and Dropbox on the consumer side. Existing enterprise solutions were awful on three use cases: 1) allowing content to be shared outside the firewall; 2) allowing content to be viewed on multiple devices; and 3) giving users cost-effective storage options beyond those provided by IT central-casting. Users flocked to these solutions, much to the consternation and futile resistance of IT managers and lawyers and records managers.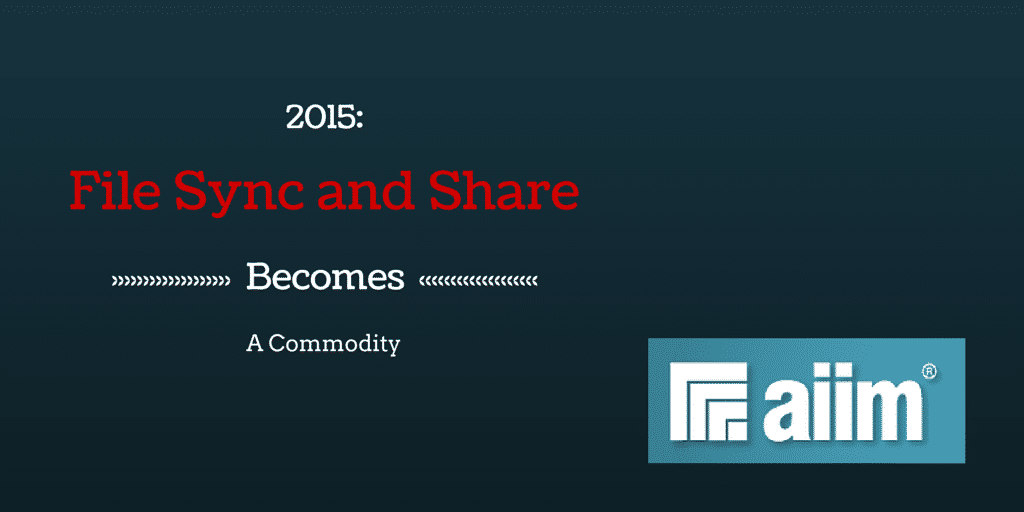 Well, the game has change. 2015 is the year in which file sync and share ceases to be a viable stand-alone value proposition. Here are the indicators.
Box itself is focused on becoming the content platform for a new ecosystem of applications and solutions, with file sync and share as a feature, but not the exclusive source of value. Box has spent the last year adding ECM capabilities to its product, which makes it a viable "good enough" ECM solution for many organizations, especially small and medium-sized business. Their ultimate value lies in the ecosystem they are working to create, with Box as the content platform, which was the point of many of the presentations at this year's Boxworks.

The value proposition of relatively cheap and flexible cloud storage available from niche sync and share vendors has evaporated as the big players (Microsoft, Google, Amazon) have waded into the cloud storage game and essentially driven the price points to zero.

As Dropbox uses its scale from the consumer side to become a credible player on the business side, it will suck the air out of a lot of the other stand alone sync and share players. Microsoft cozying up to Dropbox is a fascinating development.

Most of the major ECM players have launched their own versions of sync and share -- or have integrated with Box as their sync and share solution -- and incorporated this into their broader ecosystem of processes and control as a feature.
So for 2015, watch for continued commoditization of this space. And some interesting acquisitions.
-----
John Mancini is President of the Association for Information and Image Management (http://www.aiim.org), blogs under the title Digital Landfill (http://info.aiim.org/digital-landfill) and can be found on Twitter and LinkedIn as @jmancini77. And the author of the aforementioned children's Christmas book, which has sold near triple digits over 10 years.
-----
Do you have a copy of my free ebook, Information Chaos V Information Opportunity: Information is the world's new currency? Get one today!
----
We'll be talking about all these issues at AIIM15 in San Diego. Join 750 other information leaders for 3 days focused on how to "Embrace the Chaos."