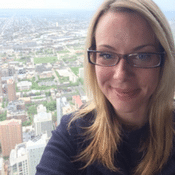 Name
Gina Smith-Guidi
Job Title
Principal Information Manager
Company
City of Edmonton
Please provide one or two points that you will mention during your session.
- Implement solutions that work behind the scenes and do not change the way people work
- Approach challenges with a flexible, unconventional mindset
Where do you see the information management industry in 5 years? What do you see as the next big impact?
The information management industry is on the cusp of learning how to manage big data. I think the industry will have more mature solutions that work in real-time. IoT (Internet of Things) is only going to increase our ability to use the information to improve lives in every way, but it also means more information to manage in terms of quality, privacy, access and life-cycle.
What questions are you asked the most by your colleagues?
How do we even begin to clean this mess up? (in regards to shared network drives)
Do I need to keep this record and for how long?
What are three things you've told yourself that kept you going during your darkest hour?
Everything I do in my work is to achieve compliance (1), efficiency (2) and cost-savings (3) for my organization despite the resistance I encounter.
Compliance: Legislation and internal policy
Efficiency: Findability, quality of information and ease of use
Cost-savings: Less rework and reduction in storage costs.
Would you quit your job if you won the lottery, even if you loved your current position?
I do love my current position. I would still want to come to work, say, 2 days a week.
What makes you excited about Mondays?
Coffee, co-workers and innovative solutions.
What do you dread most about going to work?
The afternoon slump and nay-sayers.
Who has been your mentor in your working life, and what did they do/say that had the biggest impact on your reasoning?
My former boss. She once told me I needed to learn to be comfortable with making mistakes. This allowed me to learn to trust my judgement when I am required to make fast decisions with potentially negative impacts.
Tell me about a project that forced you to be innovative and creative.
Implementing life-cycle management in Google Drive at time when there weren't any developers creating RIM apps.
What do you do for fun?
Painting, guitar, dogs & dog parks, trivia, friends and family.
---
Make your plans to attend The AIIM Conference and gain access to three days of thought-provoking sessions geared to help your overcome your information management challenges.
Stay tuned for more speaker announcements and other news. Remember, you'll save $300 when you register early.