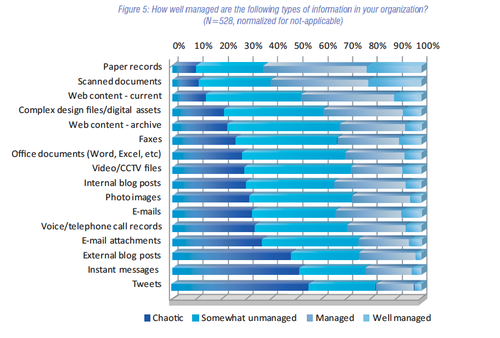 Per AIIM's State of the ECM Industry 2011 Survey (http://www.aiim.org/research), the least "chaotic" type of content is paper records, followed closely by scanned documents, suggesting that traditional imaging systems are generally well implemented and well managed.
Office documents - and surprisingly, faxes - are considered to be chaotic by 25%, with emails at 31% and their attachments at 35%. There is a potential PR liability with 45% of those publishing external blog posts considering them to be totally unmanaged. Instant messages are also of considerable concern, with over 50% of respondents considering them to be chaotic.
In AIIM's experience, instant messages are increasingly being used within the organization to agree or confirm actions. This bypassing of the email system, poorly recorded as it might be, creates considerable potential for lack of continuity and poor audit trails.
For a full copy of the AIIM State of the ECM Industry Report, go to http://www.aiim.org/research.